Review of 3rd eCatalog Conference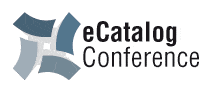 The eCatalog Conference took place again March 16, 2011 for the third time. It was attended by over 80 participants from 5 countries, from the mechanical and electrical engineering sectors, and was a resounding success. Under the slogan "Marketing meets Engineering", customers of the partners crossbase, KiM, Plan Software and TraceParts presented promotional solutions. The spotlight was focused on the experiences of users such as Julius Blum, Seeger Orbis, MiniTec and PIV Drives.
While the presentations were going on, the partner solutions were demonstrated live in an exhibition. This gave the participants the opportunity to see interesting functions live and speak to consultants. TraceParts presented the completely brand-new interface for the 3rd version of www.tracepartsonline.net, which is already used by more than 1 million users worldwide.
Some of the features allow users now to save their favorites according to manufacturer catalogs, component families or article numbers directly in their "My TraceParts" account. This gives the manufacturers listed on TraceParts a further competitive edge in the early design process for both their existing customers and potential new customers.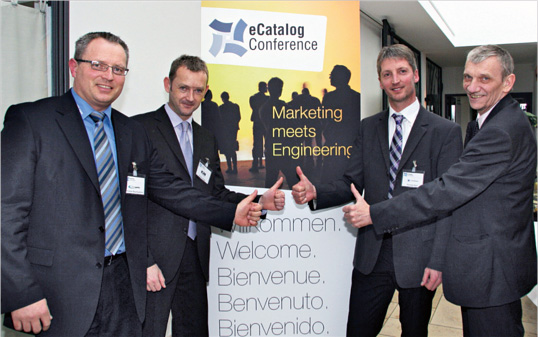 Strong partners at the 3rd eCatalog Conference: (from left to right) Christian Baumgärtner, MD TraceParts, Achim Angel, MD KiM, Thomas Kern, MD crossbase, and Axel Biewer, MD Plan Software offer designers worldwide customized software solutions./>
Seeger Orbis GmbH-u. Co. OHG, renowned for inventing the retaining ring and achieving its subsequent DIN certification, described, in relation to TraceParts, its experiences of using an online CAD catalog.
The trade professionals attending the event heard first-hand from Jörg Eberhard, International Marketing, Key Account & Business Development Manager, about how TraceParts could be used as a multiplier for winning new customers and how his company's own customers respond positively to the CAD service.
"It was a very successful event, with lots of great participants and organizers, as well as good discussions in a pleasant ambience. It was fun doing our presentation and I'm already looking forward now to next year's event," remarked Jörg Eberhard, summing up his view of the event that evening.
We look forward to you coming in 2012!
You can find further information on our website www.eCatalog-Conference.com
About TraceParts
TraceParts is a leading digital engineering 3D content company, offering progressive business solutions through powerful web based products and services. TraceParts brings targeted and cost-effective market penetration to parts vendors, in all sectors of the industry.
As part of the Trace Software Group founded in 1989, TraceParts develops and markets software solutions for CAD parts libraries, electronic catalogs and product configurators specifically designed to meet the requirements of the mechanical industry. TraceParts helps customers improve marketing efficiencies by increasing the value of their existing digital product data.
The tracepartsonline.net CAD portal is freely available to millions of CAD users worldwide, with hundreds of supplier catalogs and 100 million CAD models and product datasheets suitable for the design, purchasing, manufacturing or maintenance processes.
For more information, please visit www.traceparts.com