TraceParts solutions attract numerous interested visitors at the Hanover Industrial Exhibition
Amberg, Germany, May 4, 2012 – TraceParts exhibited during the Hanover Fair from April 23 to April 27, 2012 at the CAD.de stand.
TraceParts offers engineering companies one of the leading online CAD part libraries in the world, featuring hundreds of component manufacturers and more than 100 million CAD models.
There was also great interest shown in the offline solution, the TraceParts DVD. More than 1,000 copies were distributed here to prospective users. At the stand users could learn some tips and tricks when searching for components and for managing their user account by saving favorites and history data.
TraceParts also demonstrated its customized, web-based solutions that facilitate the seamless process from 3D component configuration to directly ordering the components.
The numerous interesting technical discussions also provided some food for thought for future innovations.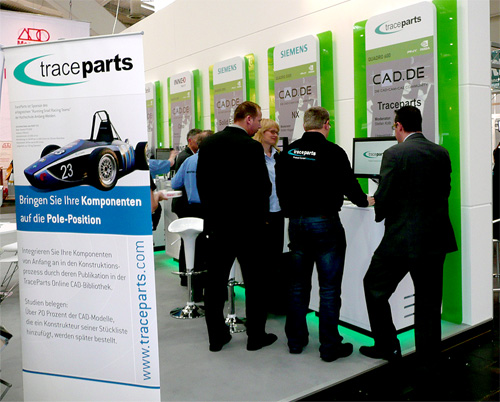 "The totally positive feedback that we got from users shows us how important TraceParts is in the daily design process. It means that the part vendors listed with us get an impressive overview in the early design process. Therefore, the likelihood of their products being ordered increases many times over. We are pleased that we can also enjoy great popularity year after year among the members and operators from CAD.de community", explains Christian Baumgärtner, TraceParts GmbH Managing Director.
About TraceParts
TraceParts is a leading digital engineering content company, offering customers progressive business solutions through powerful web based products and services. TraceParts helps customers improve marketing efficiencies by increasing the value of their existing digital product data. The tracepartsonline.net CAD portal is freely available to millions of CAD users worldwide.
For more information about TraceParts, please visit www.traceparts.com