The new solution will be first time presented at the Electronica 2010 Munich trade fair, Nov. 9 to 12

Amberg, Germany – November 8, 2010 – Phoenix Contact and TraceParts have announced today that Phoenix Contact products due to go on show at Electronica 2010 will be made available in all the most popular native and neutral CAD formats at www.tracepartsonline.net.
Phoenix Contact is among the global market leaders in connection technology between conductors and printed circuit boards, automation technology, electrical interface technology and surge protection. Its aim is to provide the best connections "from the sensor to the controller".
As an initial step, more than 8,000 products from the Combicon PCB connection technology product range are being integrated into TracePartsOnline.net in time for Electronica 2010. A specific presentation will be given at the Phoenix Contact booth, which will also demonstrate the versatile search, selection and 3D viewing options that TraceParts has to offer.
Secondly, in-depth integration of 3D models will be carried out within the Phoenix Contact web site. Phoenix Contact customers can then directly visualize the selected products, in 3D and online.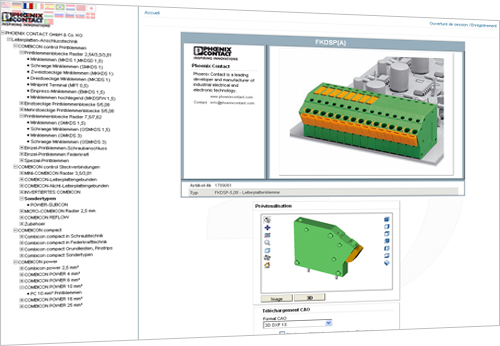 As Jens-Uwe Henkel, COMBICON Product Marketing Manager, explains: "TraceParts' innovative interface is extremely important to us as it can directly reuse our own geometrical data in STEP format, without having to recreate all the data. This also means that in future, native formats will be available to our customers in just a single mouse click.
A subsequent phase in the expansion of this partnership will involve us integrating TraceParts technology as well into our web site. The relations which TraceParts has established with design & engineering-related marketplaces that we consider important also confirmed that we opted for the right partner. TraceParts offers us future-oriented innovations."

Christian Baumgärtner, TraceParts GmbH Managing Director, adds: "We are obviously particularly pleased when, as in the case of Phoenix Contact, decisions go in our favor from both a technology and marketing strategy perspective. We are also happy with TraceParts' integration into the Phoenix Contact web environment. During workshops we laid the foundations for this using a wide variety of scenarios. The obvious benefit to users will definitely be seen as providing a value added online service and a competitive edge."
About Phoenix Contact
Phoenix Contact GmbH & Co. KG is a worldwide leader in the development and manufacturing of electrical connection, electronic interface and industrial automation technologies. Founded in Germany more than 80 years ago, its large product range includes components and system solutions for industrial and device connection, automation, electronic interface and surge protection. Phoenix Contact operates globally, employing around 10,200 workers worldwide. The company is supported by 47 subsidiaries and sales offices in another 30 countries.
You can visit the corporate website to find out more about Phoenix Contact (www.phoenixcontact.com).
About TraceParts
TraceParts is a leading digital engineering 3D content company, offering customers progressive business solutions through powerful web based products and services. TraceParts brings targeted and cost-effective market penetration to parts vendors, in all sectors of the industry. As part of the Trace Software Group founded in 1989, TraceParts develops and markets software solutions for CAD parts libraries, electronic catalogs and product configurators specially designed to meet the requirements of the mechanical industry. TraceParts helps customers improve marketing efficiencies by increasing the value of their existing digital product data. The tracepartsonline.net CAD portal is freely available to millions of CAD users worldwide, with more than 200 manufacturers' catalogs and 100 million CAD drawings and related technical data suitable for the design, purchasing, manufacturing or maintenance processes.
For more information, please visit www.traceparts.com