AutomationDirect to offer controls engineers and designers native 3D models of automation products

WILTON, New Hampshire – July 5, 2011 – industrial automation leader AutomationDirect is now using the TraceParts Internet service to provide 3D product models for controls engineers and designers, through their AutomationDirect.com web site and the TracePartsOnline.net network of web sites. AutomationDirect's customers will be able to select the right product for their needs and then download neutral and native 3D CAD models of the products into their designs.
AutomationDirect distributes Programmable Automation Controllers, Programmable Logic Controllers, Ethernet Products, HMI Operator Interfaces, Automation Software, Enclosures, PC based Controls, Plug-in I/O, and Industrial Communication solutions to a wide array of industries.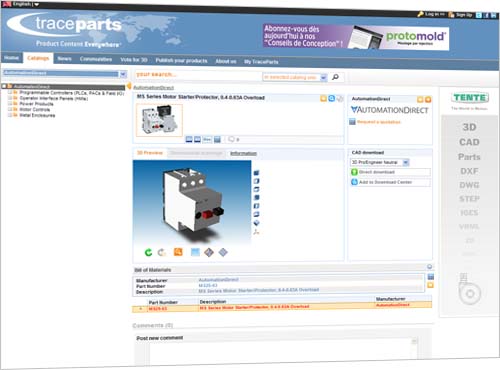 "Our customers have been asking for 3D models of our products to include in their designs", says Joan Welty, Marketing Director AutomationDirect. "The catch was they wanted the models delivered in a wide variety of CAD system formats. TraceParts allows us to satisfy those needs."

"AutomationDirect has been providing industrial automation products for over 15 years," said Bob Noftle, president of TraceParts, Inc. "They offer a comprehensive selection of hardware and software, free phone technical support, advanced logistics and an industry-leading front and back office e-business infrastructure. TraceParts helps AutomationDirect strengthen relationships with its customers by saving them time and helping them to make better design decisions faster."
About AutomationDirect.com
Founded in 1994, AutomationDirect is a pioneer and leader in the distribution of industrial automation products via direct sales and marketing. AutomationDirect's focus on efficient e-commerce practices and customer service have earned it a rating of 99% for order accuracy and customer satisfaction. For more information about AutomationDirect please visit: http://www.automationdirect.com.
About TraceParts
TraceParts is a leading digital engineering content company, offering customers progressive business solutions through powerful web based products and services. TraceParts helps customers improve marketing efficiencies by increasing the value of their existing digital product data. The tracepartsonline.net CAD portal is freely available to millions of CAD users worldwide.
For more information about TraceParts, please visit www.traceparts.com