Nashua, New Hampshire – August 06, 2013 – Kaydon Corporation, Bearing Division engineers and manufactures bearings that no other company can. From their inception in 1941 to provide precision gun mount bearings for the United States Navy, they have grown to become the world leader in thin section bearings and the North American leader in slewing ring bearings.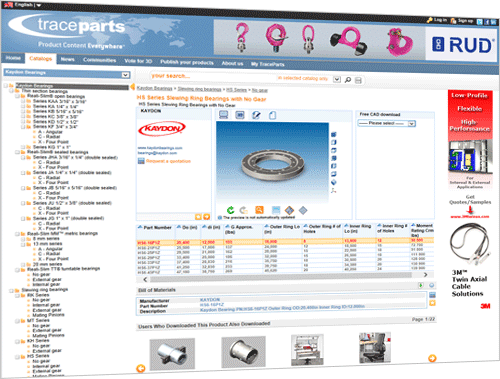 Prior to engaging with TraceParts, Kaydon Bearings' online 3D catalog coverage was limited to their own site and one CAD specific site."Now with the TraceParts network we have access to 7.5 million users.
By repurposing our existing digital product data: website text and graphics, 3D CAD models and product collateral documentation, we avoided additional expenditure to re-create data and we were up and running in 6 weeks" said Brian Walters, Marketing Manager, Kaydon Bearings. "While we increased our circulation by 7 fold, we were able to reduce our monthly expense at the same time" said Walters.

"Kaydon has increased customer service and satisfaction by providing a self-serve option to choosing from their bearing product offerings. They review the specifications, select the bearing for their design, and download models in any number of CAD formats" said Mike Antell, Regional Sales Manager for TraceParts.
About Kaydon Bearings
Kaydon Bearings Division is a leading global manufacturer of standard and custom thin section bearings, high-level bearing assemblies, and slewing ring bearings for a wide range of manufacturing and process applications. The division is also a major supplier of remanufactured and new replacement bearings.
About TraceParts
TraceParts is an online engineering media company offering progressive business solutions through powerful web based products and services. TraceParts helps customers improve marketing efficiencies by increasing the value of their existing digital product data. The TracePartsOnline.net CAD portal is freely available to millions of CAD users worldwide. For more information about TraceParts, please visit www.traceparts.com