Nashua, New Hampshire – November 07, 2012 – Pneumadyne, a leading manufacturer of pneumatic components and pneumatic control systems, is now using TracePartsOnline.net to provide 3D product models to engineers and designers worldwide. Pneumadyne's customers will be able to select and download 3D CAD models of pneumatic components and control systems directly into their designs.
"We wanted to increase our global coverage without having to recreate our existing 3D product catalogs", says Lori Lanzendorf, Pneumadyne's Vice President of Business Development. "With TraceParts we were able to repurpose 100% of our existing digital assets including 3D CAD models and text and graphics from our website. Now our 3D product catalog is completely integrated with our e-commerce website and within the TraceParts global engineering network."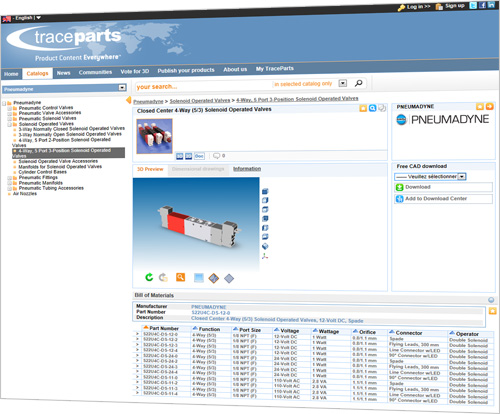 "By adding their 3D catalog to TracePartsonline.net, Pneumadyne has gone from an audience of 900,000 to a network of 5,800,000 engineering users worldwide," said Bob Noftle, Chief Evangelist, TraceParts, Inc."Not only does this provide engineering users worldwide with access to Pneumadyne's products during the design phase of their projects, it also provides Pneumadyne's support and sales teams with increased visibility into exactly which products are being selected by their customers and prospects"
About Pneumadyne
Founded in 1975, Pneumadyne, Inc. is a leading ISO 9001:2008 certified manufacturer of pneumatic components and pneumatic control systems. Designed and manufactured in the USA, their directional control valves, fittings, manifolds, air nozzles and custom products are relied upon for fluid control throughout a wide-variety of industries. Located in Minnesota, Pneumadyne encourages their employees to pursue their highest potential in an atmosphere of growth, opportunity and training, consistent with the values of teamwork, pride, honesty and reliability.
About TraceParts
TraceParts is a world-leading digital engineering 3D content company, offering progressive business solutions through powerful web based products and services. TraceParts brings targeted and cost-effective market penetration to parts vendors, in all sectors of industry.
As part of the Trace Software Group founded in 1989, TraceParts develops and markets software solutions for CAD part libraries, electronic catalogs and product configurators specifically designed to meet the requirements of the component industry. TraceParts helps customers improve marketing efficiencies by increasing the value of their existing digital product data. The TracePartsOnline.net CAD portal is freely available to millions of CAD users worldwide, with hundreds of supplier catalogs and 100 million CAD models and product datasheets suitable for the Design, Purchasing, Manufacturing and Maintenance processes.
For more information about TraceParts, please visit www.traceparts.com