Amberg – Germany, September 8, 2009 – T-Flex Parametric and TraceParts today announced the availability of the native T-Flex format in the TraceParts CAD Parts Library. T-Flex users now have direct online access to the extensive models of the purchased and standard parts from leading manufacturers.
In addition to the existing advantageous features of the T-Flex CAD version 11, T-Flex users have another direct and immediate benefit from the customer-oriented partnership with TraceParts. It means that designers in machinery, mechanical systems and mold construction will be able to save time that was previously wasted on manufacturer inquiries about CAD models or on re-drawing by themselves the required components for the integration into their own designs. Additionally, the search engine on TraceParts enables a quick and easy search for the desired purchased and standard parts. The data can be loaded in the native T-Flex format directly via www.tracepartsonline.net/ws/t-flex.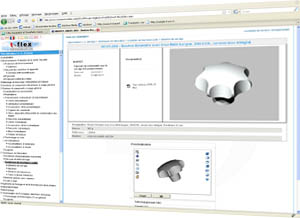 "We are pleased about the partnership with T-Flex", said Christian Baumgärtner, TraceParts GmbH Managing Director. "T-Flex offers a very good price-performance ratio. This way the parts suppliers available as TraceParts catalogs can achieve an additional visibility while the T-Flex users profit from the time savings."

The distributor for Germany, HEPS (www.heps.de) comments: "This is another step in the direction of optimized efficiency in design. The reliable and easy-to-use interface of TraceParts and the direct import into the native T-Flex format was the right decision for us! It's a win-win situation for TraceParts, for T-Flex, the suppliers, and above all for our customers. It's simply a good partnership."
T-Flex CAD has been improved continuously since 1978. This is a combined 2D and 3D CAD system for history-based, mechanical design (MCAD) in machine, systems and mold construction with an integrated open API.
The 3D editor offers all of the customary functions such as individual and multiple parts elements, assemblies and welds, metals and tubes, solids, rule-based and free-form surfaces, table and database control, associated 2D drafting according to different norms including cutaway and detail views, as well as automatic parts lists.
However, the 2D section is not simply subordinate to the modeler but comprises its own complete CAD system that can be used to fabricate standardized parametric (!) drawings, assembly drawings and even 2D assemblies. Of particular note is the seamless transition to the optional CAM module, the analysis module (FEA) and the Dynamic Analysis module.
About Top Systems
Top Systems is the leading Russian developer of advanced, integrated CAD/CAM/CAE/PDM solutions for engineers and industrial designers. Top Systems develops and distributes the T-FLEX product line, which is mainly targeted at the mechanical manufacturing industry, but also at other industries, in which design and manufacturing are tightly connected (wood, sheet metal, glass manufacturing industries, etc…). Top Systems provides software solutions on various languages worldwide directly as well as through distribution partners. www.tflex.com
About HEPS
HEPS from Mülheim on the Ruhr (Germany) has more than 17 years of experience in the area of CAD/CAM and DNC. In addition to the services in this area, the product range includes exclusively practice-oriented and -tested products. This also includes the CAD application T-Flex. You can find more information at www.heps.de.
About TraceParts
TraceParts is a leading digital engineering content company, offering customers progressive business solutions through powerful web based products and services. TraceParts helps customers improve marketing efficiencies by increasing the value of their existing digital product data. The TraceParts Online CAD portal www.tracepartsonline.net is freely available to millions of CAD users worldwide. For more information about TraceParts, please visit www.traceparts.com