Amberg, Germany, December 16, 2010 – As part of the EuroMold trade fair recently held in Frankfurt, TraceParts presented at the CAD.de exhibition stand the new 2011 DVD release containing the TraceParts component library with numerous new catalogs from world-leading component manufacturers.
During the first three days of the fair, more than 1,000 copies of the TraceParts DVD were already requested and distributed free to users.
TraceParts maintains one of world's leading CAD component libraries containing more than 100 million standard and purchased parts from leading manufacturers, making it an important source for every designer. There are also thousands of technical datasheets available in addition to the native CAD models.
The manufacturers published on the TraceParts DVD and on the TracePartsOnline.net portal therefore ensure that their components are already being used in the early design phase, while designers boost their productivity by not having to redraw standard components.
TraceParts can therefore be considered as a perfect value-added link between part manufacturers and CAD users.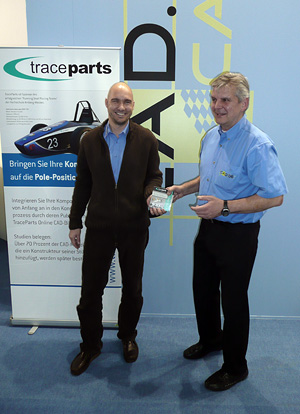 Stefan Kolb, Online Marketing Manager at TraceParts GmbH, presents the new TraceParts 2011 DVD along with Albert Ranig from CAD.de.
About TraceParts
TraceParts is a leading digital engineering 3D content company, offering customers progressive business solutions through powerful web based products and services. TraceParts brings targeted and cost-effective market penetration to parts vendors, in all sectors of the industry. As part of the Trace Software Group founded in 1989, TraceParts develops and markets software solutions for CAD parts libraries, electronic catalogs and product configurators specially designed to meet the requirements of the mechanical industry. TraceParts helps customers improve marketing efficiencies by increasing the value of their existing digital product data. The tracepartsonline.net CAD portal is freely available to millions of CAD users worldwide, with more than 200 manufacturers' catalogs and 100 million CAD drawings and related technical data suitable for the design, purchasing, manufacturing or maintenance processes.
For more information, please visit www.traceparts.com