TraceParts Component Library Provides 3D Catalogs in the Alibre Design Native Format.

Richardson, TX – October 9, 2007 – Alibre, Inc. and TraceParts, Inc. today announced immediate availability of a new tracepartsonline.net portal providing the rapidly growing Alibre customer base direct access to the entire TraceParts parts library. The TraceParts library is one of the biggest parts libraries in the world, offering 100+ million 3D CAD models & 2D drawings, including both industry standard parts as well as products from hundreds of manufacturers.
The TraceParts library is directly accessible from within the user interface of Alibre Design Professional and Expert, and 3D parts are available in the Alibre Design native format allowing them to be directly inserted into designs without translation.
The library can also be accessed directly at www.tracepartsonline.net/ws/alibre, and couples powerful search capabilities, 3D dynamic previews and an easy to use interface that enables users to browse the large parts library to quickly locate and retrieve parts that can be directly inserted into a design.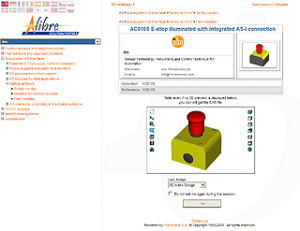 According to Greg Milliken, CEO of Alibre, the new relationship helps design and manufacturing companies improve their overall design efficiency by leveraging standard off-the-shelf components freeing them to spend the majority of their time on their own design and manufacturing innovations.
"The massive TraceParts library delivers immediate value to our customers," said Milliken. "It's good practice to use off-the-shelf parts and products whenever possible because it reduces cost and decreases design time. The wider the selection the better, and the TraceParts library offers one of the widest selections on the market."

"We are pleased to be working with Alibre," said Bob Noftle, President of TraceParts, Inc. "Alibre's growing popularity, great price/performance and simple user interface are expanding the market by attracting users who have not previously been able to afford or learn 3D. We believe this large and under-served market is an exciting marketing opportunity for all the parts vendors who selected TraceParts as their preferred partner to create and publish their CAD catalogs. These new users will get a lot of value from our 3D content, and Alibre's position as the value leader provides us a unique opportunity to reach them."
About Alibre
Alibre Inc. develops and markets Alibre Design™, the fastest growing parametric 3D solid modeling software for mechanical design and manufacturing. One-fifth the cost of comparable software, Alibre Design delivers quick ROI, ease-of-use, rich functionality and unique real-time support, and is enabling small and medium-sized businesses and workgroups to put 3D CAD on every engineer's desk, similar to utilities like Word or Excel. Alibre also delivers Alibre Design Xpress, the industry's only true 3D parametric modeler available free of charge. Alibre Design is available in fifteen languages and distributed worldwide. Founded in 1997, Alibre Inc. is privately funded and based in Richardson, Texas. For more information on Alibre, or for a free trial of Alibre Design, please visit www.alibre.com.
About TraceParts
TraceParts is a leading digital engineering content company, offering customers progressive business solutions through powerful web based products and services. TraceParts helps customers improve marketing efficiencies by increasing the value of their existing digital product data. The tracepartsonline.net CAD portal is freely available to millions of CAD users worldwide. For more information about TraceParts, please visit www.traceparts.com