Amberg, Germany, February 10th, 2011 – TraceParts, a leading global provider of 3D marketing solutions, awarded a prize of an Apple iPad™ to the lucky one millionth registered user of TracePartsOnline.net on 24 January 2011.
Engineering designer Frank Zeise, from the company Werkzeugbau und Feinwerktechnik Meiningen GmbH, registered on TracePartsOnline.net at just the right time in December 2010.
"I urgently needed a specific component for my design project. I was only able to find it at TraceParts, so after I had registered (the process is very quick and free of charge), I downloaded the part and was able to include it immediately in my design along with all the order references. Because I was very short of time in December, I hadn't even noticed that TracePartsOnline.net was waiting for its one millionth user to register. So I was all the more surprised and pleased to receive the e-mail saying that I had won an iPad™" explained Frank Zeise.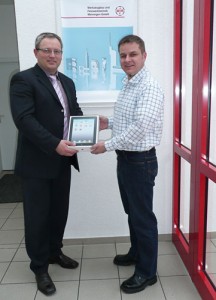 Christian Baumgärtner (managing director of TraceParts GmbH) and design engineer Frank Zeise, the one millionth registered user of TracePartsOnline.net.
With a comprehensive offering of hundreds of supplier catalogs and more than 100 million CAD models in all the major neutral and native formats, including AutoCAD, SOLIDWORKS, CATIA, Inventor and Google SketchUp,TracePartsOnline.net has rapidly become one of the most popular global online resources for engineers and designers. TracePartsOnline.net significantly increases productivity during the process of designing mechanical and electromechanical systems, because purchased parts can be downloaded directly and do not need to be redrawn.
"Engineering design is an important part of all areas of our business. Our engineering designers use standard and purchased parts every day for everything from the construction of punching and bending tools, assembly jigs and laboratory equipment through to complex solutions. The company is very happy for the design team to make use of TracePartsOnline.net. Using the TraceParts 3D models results in shorter design times," said Matthias Linser, managing director of Werkzeugbau und Feinwerktechnik Meiningen GmbH.

"I am particularly pleased that the one millionth user of TracePartsOnline.net is a design engineer who needed to quickly find a purchased part with a 3D model in one of our catalogs when he had tight deadlines to meet. This happens thousands of times every day on our portal," said Christian Baumgärtner, managing director of TraceParts GmbH.
Component manufacturers are using the site as an innovative online 3D marketing tool to promote their products and generate highly qualified sales leads. The TracePartsOnline.net 3D catalogs feature leading part suppliers such as Advantech, Asco Numatics, Atlanta, Blickle, Bosch Rexroth, Cepex, CGI, Clippard, Contrinex, Euchner, Facom, Ganter, Halder, IFM, Igus, INA/FAG, Item, Kabelschlepp, Legrand, Parker Legris, maxon motor, Nadella, Norelem, Nozag, Phoenix Contact, Rohde, RS Components, Schmalz, Schmersal, Schneider Electric, Sherex, Sick, SNR, Trelleborg, Vishay, Winkel and many more.
About TraceParts
TraceParts is a leading digital engineering 3D content company, offering progressive business solutions through powerful web based products and services. TraceParts brings targeted and cost-effective market penetration to parts vendors, in all sectors of the industry.
As part of the Trace Software Group founded in 1989, TraceParts develops and markets software solutions for CAD parts libraries, electronic catalogs and product configurators specifically designed to meet the requirements of the mechanical industry. TraceParts helps customers improve marketing efficiencies by increasing the value of their existing digital product data.
The tracepartsonline.net CAD portal is freely available to millions of CAD users worldwide, with hundreds of supplier catalogs and 100 million CAD models and product datasheets suitable for the design, purchasing, manufacturing or maintenance processes.
For more information, please visit www.traceparts.com