Two leading suppliers join forces to boost CAD Engineers' design productivity
St Romain, France, 10 May 2010 – RS Components, one of the largest global catalog and web-based distributors of industrial components, has launched a comprehensive library of certified 3D and 2D CAD models of electromechanical components. All models can be downloaded free of charge.
RS partnered with TraceParts, a leading digital engineering 3D content provider to offer the service. Visitors to the RS website will see a rotating 3D model of parts where a model is available, with links to "classic" images to show details of colour or surface finish. A further advantage of the new RS service is that a unique image will exist for all product variants. In the past, families of products were often represented pictorially by one particular popular or high level variant of the product range. Registered users can download models in 23 different neutral and native CAD formats depending on the system. The initial 20,000 of 45,000 electromechanical components are available now. The balance will be added in the coming months. TraceParts will also publish the RS Components catalog to a number of other important CAD vendor websites, providing users with a number of different ways to access the models.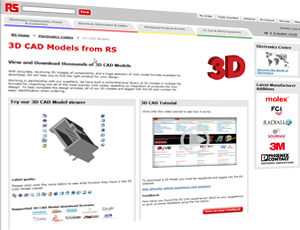 The comprehensive nature of the RS library is unmatched in the industry, bringing the true benefits of 3D CAD modelling to its customers at no extra charge and without the need to download or install additional software.
"The use of 3D CAD models in the electronics industry continues to increase,"said Mark Cundle, Technical Marketing Manager, RS Components. "Creating models for use in CAD packages can be a time-consuming process, hindered by the largely non-standardised formats used by a wide variety of CAD packages. Some 3D CAD models are available from manufacturers, but these can be hard to find, or only available by special request. We found TraceParts to be the best partner to help us deliver a comprehensive range of certified 3D models in all major CAD file formats, free of charge, from a single source."

"We are extremely pleased to partner with an industry leader like RS Components to deliver such an innovative and value-added service to their customers", explains Gabriel Guigue, TraceParts Managing Director. "Time to market has become a critical issue for all designers worldwide and RS Components' free CAD download service will bring them huge productivity gains."
The 3D models are one of three new platforms launched to provide engineers with an authoritative online environment to support their latest designs. In addition to the models, RS also announced today a comprehensive, vendor-independent parametric database of electronic components and an enhancement of its EDP embedded development environment. Later this year, RS will extend this environment, adding free PCB design tools that enable engineers to carry out the whole of their design using online resources from RS, and also interact live with other engineers and RS technical support during the process.
About RS Components
RS Components is the trading brand of Electrocomponents plc, one of the largest global catalog and web-based distributor of Electronic, Electro-mechanical and Industrial components. The Group serves nearly 1.6 million customers worldwide. Through operations in 27 countries and 17 warehouses, RS distributes 500,000 products from over 2,500 suppliers. The Group has an annual turnover of over £974 million and is listed on the London Stock Exchange. For more details on the Group please visit the corporate website (www.electrocomponents.com).
About TraceParts
TraceParts is a leading digital engineering content company, offering customers progressive business solutions through powerful web based products and services. TraceParts helps customers improve marketing efficiencies by increasing the value of their existing digital product data. The tracepartsonline.net CAD portal is freely available to millions of CAD users worldwide. For more information, please visit www.traceparts.com