TraceParts 100+ million 3D models directly accessible from within SpaceClaim Professional 2007.

Concord, MA, USA and St Romain, France – 11 April 2007 – SpaceClaim Corp. and TraceParts S.A. today announced the immediate availability of SpaceClaim TraceParts, a comprehensive library of manufacturers' and industry standard parts seamlessly integrated into SpaceClaim Professional 2007. Users can choose components from a variety of leading parts supplier catalogs and place them directly in their designs. The availability and use of manufacturer-supplied design models allows concept designers, engineers, and other SpaceClaim users to increase personal productivity by focusing more time on contributing to their own designs.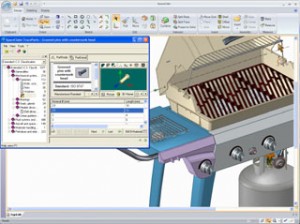 "SpaceClaim provides users with immediate productivity gains through a modern user interface, flexible modelling environment, and powerful tool set. The inclusion of the SpaceClaim TraceParts standard libraries furthers user productivity by speeding the design process," said Michael McGuinness, COO of SpaceClaim Corp. "The seamless integration of TraceParts with SpaceClaim Professional 2007 is another example that highlights the advantages of our open XML data model and data exchange capabilities to quickly provide users additional value through customer-focused technology partnerships."

"We are very proud to be the first parts library integrated into SpaceClaim Professional 2007. We've been in the CAD industry for more than 15 years, and we've never experienced the high-level of responsiveness we received from SpaceClaim. They literally integrated our complete library of parts into SpaceClaim in an hour. It tells a lot about how reactive and passionate the whole SpaceClaim team is," said Gabriel Guigue, Managing Director of TraceParts. "SpaceClaim is clearly an industry technology-leader and we expect all of our parts manufacturers to benefit from SpaceClaim's growing acceptance in the marketplace."
Much more than a simple parts library
SpaceClaim TraceParts includes 100+ millions of manufacturers' and standard parts coming from leading European-based and other parts suppliers in the tooling, machinery, aerospace, and automotive industries. For a complete list of part catalogs and suppliers go to:www.traceparts.com.
the library is directly accessible from within SpaceClaim Professional 2007, and the selected parts are automatically inserted into the current assembly as native 3D models.
owerful search capabilities:
different search engines, classifications, and 2D/3D viewers are available in a user friendly interface to browse the large parts database to quickly find the right component and automatically insert it into the design.
Availability
SpaceClaim TraceParts is an add-on license to SpaceClaim Professional 2007. It is available as an annual lease for one or multi-year terms. SpaceClaim lease includes software right-to-use, updates, upgrades, support services, and unlimited access to new catalogs throughout the length of the term. For product pricing, please visit: www.spaceclaim.com.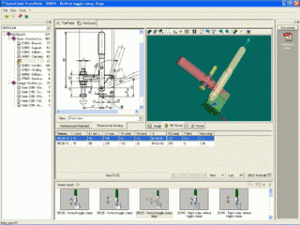 About SpaceClaim
SpaceClaim is a privately held company targeting the mechanical design market. SpaceClaim provides breakthrough technology that enhances engineers' productivity by empowering them to contribute to, consume, and share mechanical designs in a 3D digital form. SpaceClaim has assembled a world-class team of prominent executives, product developers, board members, and advisors with unrivaled experience in bringing new computer-aided design software to market. Founded in September 2005, SpaceClaim is backed by Borealis Ventures, Kodiak Venture Partners, and North Bridge Venture Partners. For more information, visit: www.spaceclaim.com.
About TraceParts
TraceParts is a consulting-oriented software developer specialized in 3D Engineering Content. As part of the Trace Software Group founded in 1989, the company develops and markets software solutions for CAD parts libraries, electronic catalogs and product configurators specially designed to meet the requirements of the mechanical industry. Combining the content of the TraceParts and web2CAD powerPARTS libraries has given rise to one of the world's leading CAD parts libraries, with more than 200 manufacturers' catalogs and 100 million CAD drawings. Thanks to the open and high-performance technology inherent in TraceParts for all the main CAD software, more than 600,000 users are already using TraceParts catalogs throughout their design, purchasing, manufacturing or maintenance processes. For more information, visit: www.traceparts.com
SpaceClaim and the SpaceClaim logo are trademarks or registered trademarks of SpaceClaim Corp. TraceParts and TraceParts logo are trademarks or registered trademarks of TraceParts S.A. All other trademarks used or mentioned herein belong to their respective owners.