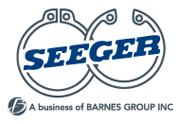 Bristol, CT, May 10, 2010 – Seeger-Orbis, a leading manufacturer of retaining and snap rings and business of Barnes Group Inc. (NYSE: B), has enhanced its pre-production design capabilities, now offering customers online access to 3-D CAD models for its more than 2,000 parts on www.seeger-orbis.com/3D. The models, available in both two and three dimensional formats, give customers quick and easy access to part specifications and downloadable digital engineering models. This drastically speeds up the design phase, eliminating the need for customers to contact the Company via phone or e-mail to get the model that meets their exact specifications.
Offered in partnership with TraceParts, a leading digital engineering 3D content company, Seeger's entire catalog of stocked parts from Seeger rings to circlips to shims and support washers, are offered in unstressed, mounting and fitted stages, so the customer can accurately evaluate product design and performance.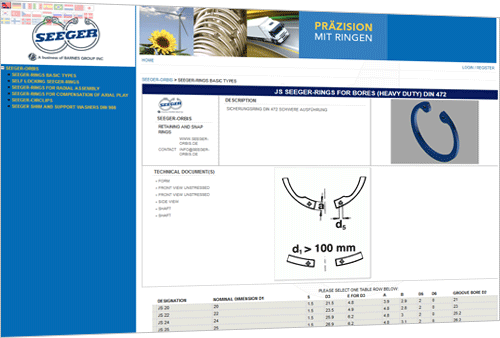 "Traditionally 3-D CAD models are offered only in the unstressed stage, interfering with grooves in adjacent components like shafts and bores. Offering models in these three critical stages gives the customer speed, flexibility and accuracy in their component design, assembly set-up and testing, so they can get it right the first time," said Joerg Eberhard, Business Development Manager, Seeger-Orbis. "It also increases their efficiency and productivity, reducing turn time, which is something all manufactures strive for."
A search function allows customers to quickly locate what they are looking for in Seeger's inventory. Once the part is identified, the customer can review the specifications, view the model in a two or three dimensional format, choose the preferred model stage, and download the file for immediate use – all in a matter of seconds with just a few clicks of the mouse. Detailed product information and specifications are displayed next to the model. A controller is also available to manipulate the model and review all angles of the part before download. Seeger models are available for all of the leading digital design systems, from 2D AutoCAD to CATIA, ProE or 3D XML.
For more information on the 3-D CAD downloads, contact your Seeger-Orbis sales representative, or visit www.seeger-orbis.com/3D
About Seeger-Orbis and Barnes Group Inc.
Seeger-Orbis is a leading manufacturer of retaining rings and snap rings for the automotive, engineering and wind power industry and sells its products globally via a comprehensive range of technical distribution partners. Europe's premier ring producer for the last decade, Seeger-Orbis engineers, manufactures and delivers customer service for a large assortment of fastening elements, including retaining rings, snap rings, tight tolerance select fit shims and support washers.
Barnes Group Inc. (NYSE:B) is a diversified global manufacturer and logistical services company focused on providing precision component manufacturing and operating service support. Founded in 1857, the 4,900 dedicated employees at more than 60 locations worldwide are committed to achieving consistent and sustainable profitable growth.
About TraceParts
TraceParts is a leading digital engineering content company, offering customers progressive business solutions through powerful web based products and services. TraceParts helps customers improve marketing efficiencies by increasing the value of their existing digital product data. The tracepartsonline.net CAD portal is freely available to millions of CAD users worldwide. For more information, please visitwww.traceparts.com