The TraceParts catalogs are integrated in the MyCADLibraries CAD drawings download portal.

St Romain, December 11, 2006 – Surfing on the growing success of the MyCADSuite suite of online solutions and services developed by Axemble (10,000 subscribers in Europe within two years), the TraceParts catalogs can now be accessed by users of the MyCADLibraries portal.
The MyCADLibraries portal is a unique solution for downloading CAD drawings, combining 500 million 2D & 3D drawings from over 250 catalogs via a single point of access.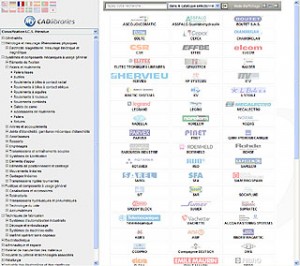 According to Frédéric Chosson, Marketing Director of Axemble Solutions for Industries:
"TraceParts is the only parts library to offer all of France's leading manufacturers, including Asco Joucomatic Numatics, Boutet, Chambrelan, ENOMAX, Hervieu, Legrand, Legris, Norelem, Pinet, Rabourdin, Siam Ringspann, SNR and Telemecanique. We therefore saw it as a necessary move to incorporate it into our MyCADLibraries portal, because it is especially suited to our customers and fully rounds off our current offering."
Thanks to this strategic agreement, all manufacturer partners of TraceParts can now take advantage of a new distribution channel for their 2D & 3D CAD drawings. More specifically, Axemble's 3,500 customers (70% of which use SOLIDWORKS in France) can now access dozens of new catalogs from the TraceParts library and thereby increase their productivity to even higher levels.
"We are obviously very proud to associate our name with one of the world's premier integrators of CAD solutions. Axemble was very quick to develop innovative value-added solutions for engineering firms, which particularly appealed to us," explains Gabriel Guigue, Managing Director of TraceParts. "We are convinced that this partnership will prove to be highly successful, for both CAD users and parts manufacturers."
About TraceParts
TraceParts S.A. is a software developer that is part of the Trace Software Group, set up in 1989. It is number one in the development and distribution of software that helps CAD users to boost their productivity, thanks to parts libraries supplied on CD or via the Internet, electronic catalogs, and configuration tools. The services and solutions developed by TraceParts also allow parts manufacturers to convert their CAD drawings and other technical data into an excellent sales and marketing tool. With the support of its German subsidiary, globally recognized for its powerPARTS library, TraceParts is one of the most comprehensive and widely used CAD libraries in the world, with over 600,000 users, 200 parts catalogs and 100 million CAD drawings.
To find out more about TraceParts, visit: www.traceparts.com
About Axemble
Axemble, a major integrator of PLM solutions for industry and France's leading distributor of SOLIDWORKS*, boasts unrivalled expertise in CAD, 3D design solutions (SOLIDWORKS) and TDMS technical data management. With 88 employees, sales of 20.8 million euros in 2005, over 9,000 SOLIDWORKS licenses, 3,500 customers in industry and a 97% customer satisfaction rate (SOLIDWORKS 2003 survey), Axemble has established its position as a key PLM player**. For further information, visit www.axemble.com.
* Winner for the fifth year running of the award for Europe's leading retailer in 2005 for the number of SOLIDWORKS licenses.
** Axemble registered 350 new customers in 2005 and was the world number one for SOLIDWORKS Office Premium packages and the world number one for SOLIDWORKS calculation solutions (Cosmos). With 3,500 customers, Axemble's customer base includes 10% of companies in the French industrial sector. This figure reaches 30% in the Rhône-Alpes region.

About MyCADsuite.com
Axemble has developed a range of online tools and services combined within the MyCADsuite solution. MyCADservices, the entry point for this suite of tools and services, federates the SOLIDWORKS user community by offering online hotline support for SOLIDWORKS, forums/FAQ, methodology guides and even SOLIDWORKS utilities. MyCADplace provides users with a hosted project area for design work, while MyCADlearning offers SOLIDWORKS users the possibility of learning about the new versions at their own pace via the online training facility.