Faster, more user-friendly and complete: accessing the TraceParts CAD parts libraries has never been easier.
St Romain, December 12, 2006 – TraceParts has announced the launch of its brand new website www.traceparts.com and the closure of its old website web2cad.com, thus marking a crucial stage in the process of merging the technical and marketing aspects of the web2CAD and TraceParts offerings.
The new site will help to consolidate TraceParts' identity and its position as a major player in the market for parts libraries for CAD users and for technical data distribution solutions for manufacturers. It offers a faster, more user-friendly navigation system, with numerous new headings, such as the gallery featuring examples of electronic catalogs and configuration tools produced for parts manufacturers.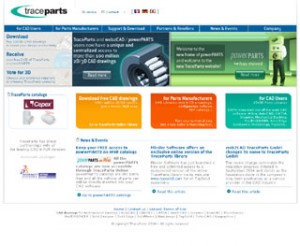 A single website offering a higher profile
Thanks to this new site www.traceparts.com, the 450,000 designers regularly using the tracepartsonline.net and powerPARTS on Web portals now have unique, centralized access to over 100 million 2D and 3D CAD drawings taken from the catalogs of the biggest parts manufacturers: Asco Joucomatic Numatics, Assfalg, Atlanta, Bosch Rexroth, Boutet, Busak+Shamban, Cepex, Chambrelan, Contrinex, CSR, Dirak, Elitec, ENOMAX, Euchner, Expert, Festo, Ganter, Genustech, Gerwah, Halder, Hervieu, HP Systems, IFM, Igus, INA/FAG, Item, ITV, Joyner, Kabelschlepp, Kinetic, Legrand, Legris, L'Etoile, Mädler, Mayr, Mecalectro, Misumi, Nadella, Norelem, Normydro, Nozag, Pinet, Progressus, Quiri, Rabourdin, Rohde, Römheld, Rötelmann, Rud, Sapelem, Schmalz, Schmersal, Siam-Ringspann, Sick, SNR, Socafluid, Somex, Stauffenberg, Stüwe, Suhner, Sumer, Telemecanique, Wefapress, Zimm, …
"This new website is the fifth in a line of websites we have created since we started to work with the Internet in 1997, which is a strong indication of longevity and maturity in the IT sector," explains Gabriel Guigue, Managing Director of TraceParts. "After being in the CAD libraries, electronic catalogs, and configuration tools market for over 15 years, we felt that it was vitally important for us to make our offering clearer and easier to understand. We have therefore worked in close cooperation with our partners and a number of customers in designing the new site, and I have to admit that the result has greatly surpassed our expectations."
About TraceParts
TraceParts S.A. is a software developer that is part of the Trace Software Group, set up in 1989. It is number one in the development and distribution of software that helps CAD users to boost their productivity, thanks to parts libraries supplied on CD or via the Internet, electronic catalogs, and configuration tools. The services and solutions developed by TraceParts also allow parts manufacturers to convert their CAD drawings and other technical data into an excellent sales and marketing tool. With the support of its German subsidiary, globally recognized for its powerPARTS library, TraceParts is one of the most comprehensive and widely used CAD libraries in the world, with over 600,000 users, 200 parts catalogs and 100 million CAD drawings.
To find out more about TraceParts, visit: www.traceparts.com