Figure demonstrates how RS is successfully supporting engineers with free online 3D design tools
Oxford, UK, 12 February 2013 – RS Components (RS), the trading brand of Electrocomponents plc (LSE:ECM), the world's leading high service distributor of electronics and maintenance products, has recorded 300,000 downloads of 3D CAD models from the RS website. This major milestone has been achieved just over two years after the company launched its 3D CAD programme to provide engineers globally with access to an extensive library of 3D models downloadable completely free-of-charge from the RS website.
The RS 3D catalogue now exceeds 30,000 models from more than 40 leading manufacturers, with new additions being progressively introduced to the library. The models are available to download in all of the most common 3D CAD formats, accessible via the company's 3D CAD microsite or through its ModelSource component library on DesignSpark, the RS online community for engineers.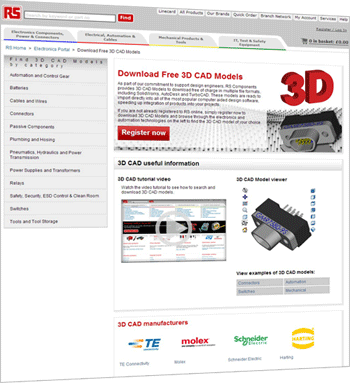 "The rate at which engineers are using our web resources as their source for 3D models has really taken off, and in the past twelve months we have logged double the amount of downloads as in the previous year to reach this impressive figure," said Mark Cundle, Head of Technical Marketing, RS Components. "Our data analysis shows that the uptake is truly global, evidence that engineers in virtually every country around the world are increasingly starting to trust and rely on RS for support with their designs."
About RS Components
RS Components and Allied Electronics are the trading brands of Electrocomponents plc, the world's leading high service distributor of electronics and maintenance products. With operations in 32 countries, we offer more than 550,000 products through the internet, catalogues and at trade counters to over one million customers, shipping around 44,000 parcels a day. Our products, sourced from 2,500 leading suppliers, include electronics, automation and control, test and measurement, electrical and mechanical components.
For more information, please visit the website at www.rs-components.com.
About TraceParts
TraceParts is a world-leading digital engineering 3D content company, offering progressive business software solutions for over 20 years through powerful web based products and services such as CAD part libraries, electronic catalogs and product configurators, helping part vendors to improve marketing efficiencies by increasing the value of their existing digital product data.
The TracePartsOnline.net CAD portal is freely available to millions of CAD users worldwide, with hundreds of supplier catalogs and over 100 million CAD models and product datasheets suitable for the Design, Purchasing, Manufacturing and Maintenance processes. For more information about TraceParts, please visit www.traceparts.com