Nashua, New Hampshire – July 16, 2013 – Long before there was an internet, Accuride International began as a small tool and die shop producing ball bearing slides for the electromechanical industry. Now, 50 years later, Accuride encompasses nearly than 1 million square feet of manufacturing space around the world where they design and manufacture products and services for a multitude of applications. Last August they engaged with TraceParts to upgrade their CAD model offering and increase their internet presence to reflect their expanded global business model.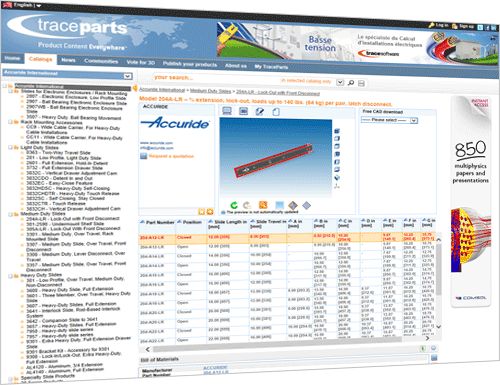 Among Accuride's objectives in engaging with TraceParts was the desire to replace their existing CAD formats with something more powerful and flexible to better address the needs of their worldwide audience. "We wanted our customers to have access to complete 3D model viewing and downloads in a host of CAD formats," said Claudia Tuttle, Marketing Manager.
"Previously, we had just 2 CAD formats available. By repurposing our data, we now offer 15 CAD formats and added real-time 3D viewing," said Tuttle.

"Accuride also wanted to provide their sales staff and distributors with complete up-to-the-minute download information," says Mike Antell, Regional Sales Manager, TraceParts Inc. "Our robust sales analytics gave them what they wanted and more. Now they can't live without this on-demand reporting they get from TracePartsOnline.net."
About Accuride International Inc.
For more than 50 years, Accuride International has been a leader in the design and manufacture of ball bearing slides and movement solutions for a broad range of applications across a variety of industries. Offering engineering and product design, application solutions, manufacturing expertise, and more, Accuride is a worldwide presence that can collaborate with companies in any industry, anywhere. www.accuride.com
About TraceParts
TraceParts is an online engineering media company offering progressive business solutions through powerful web based products and services. TraceParts helps customers improve marketing efficiencies by increasing the value of their existing digital product data. The TracePartsOnline.net CAD portal is freely available to millions of CAD users worldwide. For more information about TraceParts, please visit www.traceparts.com