TraceParts strengthens its leading position as the most visible European CAD library on the world's leading web search engine
Saint Romain – France, October 16, 2012 – TraceParts, a leading global provider of 3D Marketing Solutions, has recorded over 1.4 million pages indexed inside Google's search engine for its CAD portal www.tracepartsonline.net. This results in the TraceParts 3D library being one of the most visible inside Google and confirms its number one position in Europe in terms of indexed pages. This impressive achievement is a direct result of an aggressive and comprehensive Search Engine Optimization (SEO) strategy.
The SEO strategy of TraceParts, combined with its 1,400,000 engineering users generating over 5,000,000 page views per month on TracePartsOnline.net, provides immediate benefits to its hundreds of 3D online catalog customers by helping them get their products listed up-front in Google search results and by having their products included into the projects of their customers early in the design.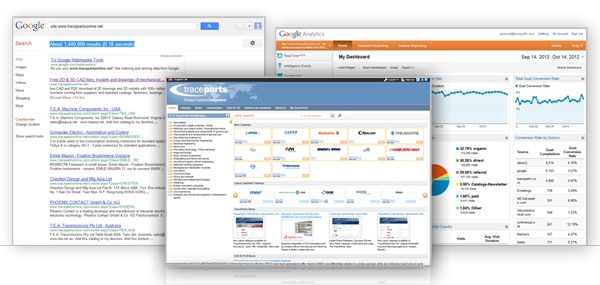 "We are extremely proud about this major milestone in our full-web product strategy. TraceParts has been a pioneer in Web technology and SEO, since launching TracePartsOnline.net in early 2001." explained Gabriel Guigue, TraceParts Managing Director. "We strongly believe the offline part management era is over. CAD engineers need accurate and up-to-date technical data for the purchased components they use inside their designs; no other media delivery mechanism other than the Internet can fulfill this critical requirement".
By continuing strong technology and marketing investments, TraceParts is turning its corporate tagline"Product Content Everywhere" into a new industry-standard for creating and publishing rich technical content for the component industry, anytime, anywhere.
About TraceParts
TraceParts is a world-leading digital engineering 3D content company, offering progressive business solutions through powerful web based products and services. TraceParts brings targeted and cost-effective market penetration to part vendors, in all sectors of industry. As part of the Trace Group founded in 1989, TraceParts develops and markets software solutions for CAD part libraries, electronic catalogs and product configurators specifically designed to meet the requirements of the component industry. TraceParts helps customers improve marketing efficiencies by increasing the value of their existing digital product data.
The TracePartsOnline.net CAD portal is freely available to millions of CAD users worldwide, with hundreds of supplier catalogs and 100 million CAD models and product datasheets suitable for the Design, Purchasing, Manufacturing and Maintenance processes. For more information about TraceParts, please visit www.traceparts.com