Presentation of RS Components and Phoenix Contact solutions in collaboration with TraceParts.

November 16, 2010, Amberg, Germany – electronica 2010, the world's leading trade fair for components, systems and applications, was staged for the 24th time between November 9 and November 12, 2010 in Munich. At this year's event there was a presentation of online solutions at the RS Components and Phoenix Contact booth based on collaboration with TraceParts.
Phoenix Contact presented efficient, innovative and sustainable products and solutions for the electrical engineering and electronics sectors. The 3D online solution created with TraceParts (press release: /ja/news-and-events/2010-press-releases/pr04112010/) was displayed on a separate exhibition wall at the Phoenix Contact booth for visitors, prospective customers and distributors, receiving extremely positive feedback. The solution supports Phoenix Contact within the native CAD formats in the COMBICON product range, which supports its customers in the concept and design process with more than 8,000 products. In addition, Phoenix Contact products are also available directly to TraceParts users worldwide via www.tracepartsonline.net.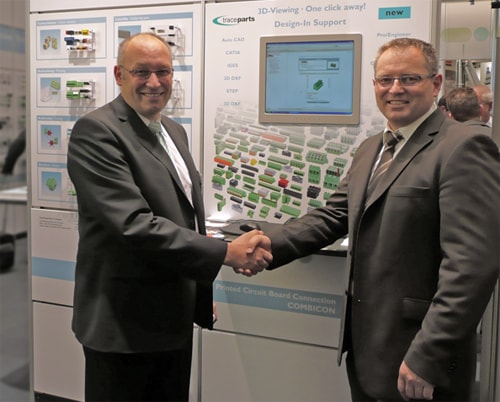 Jens-Uwe Henkel, COMBICON Product Marketing Manager at Phoenix Contact, and Christian Baumgärtner, TraceParts GmbH Managing Director, at the Phoenix Contact booth with the 3D online solution from TraceParts on display in the background.
RS Components is one of the world's biggest catalog and web distributors of electronic, electrical and industrial components and presented at its booth a solution with a 3D library developed specifically using TraceParts, which is unique in the sector. (Press release: /ja/news-and-events/2010-press-releases/pr10052010/)
RS Components offers therefore an extensive selection of certified 3D models that provide a reliable online environment and give direct support to the design process involving electronic components.
RS Components' aim is for engineers to be able to produce the entire design using RS online resources. RS Components can supply additional tools for doing this, such as a free PCB design tool.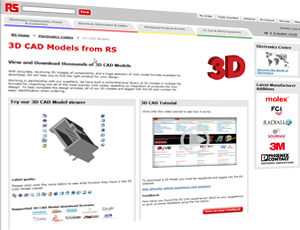 Visitors to the RS Components website can look directly at CAD models from the component library, and download them for free, if required.
About Phoenix Contact
Phoenix Contact GmbH & Co. KG is a worldwide leader in the development and manufacturing of electrical connection, electronic interface and industrial automation technologies. Founded in Germany more than 80 years ago, its large product range includes components and system solutions for industrial and device connection, automation, electronic interface and surge protection. Phoenix Contact operates globally, employing around 10,200 workers worldwide. The company is supported by 47 subsidiaries and sales offices in another 30 countries.
You can visit the corporate website to find out more about Phoenix Contact (www.phoenixcontact.com).
About RS Components
RS Components is the trading brand of Electrocomponents plc, one of the largest global catalog and web-based distributor of Electronic, Electro-mechanical and Industrial components. The Group serves nearly 1.6 million customers worldwide. Through operations in 27 countries and 17 warehouses, RS distributes 500,000 products from over 2,500 suppliers. The Group has an annual turnover of over £974 million and is listed on the London Stock Exchange.
For more details on the Group please visit the corporate website (www.electrocomponents.com).
About TraceParts
TraceParts is a leading digital engineering 3D content company, offering customers progressive business solutions through powerful web based products and services. TraceParts brings targeted and cost-effective market penetration to parts vendors, in all sectors of the industry. As part of the Trace Software Group founded in 1989, TraceParts develops and markets software solutions for CAD parts libraries, electronic catalogs and product configurators specially designed to meet the requirements of the mechanical industry. TraceParts helps customers improve marketing efficiencies by increasing the value of their existing digital product data. The tracepartsonline.net CAD portal is freely available to millions of CAD users worldwide, with more than 200 manufacturers' catalogs and 100 million CAD drawings and related technical data suitable for the design, purchasing, manufacturing or maintenance processes.
For more information, please visit www.traceparts.com