30,000 connectors, relays, sensors and switches available for free download from TracePartsOnline.net

Saint Romain – France, Oct. 17, 2012 – TraceParts, a world-leading digital engineering 3D content company, has partnered with Omron Electronic Components Europe B.V. to offer 30,000 CAD models of connectors, relays, sensors and switches downloadable for free from TracePartsOnline.net in 30 native and neutral 2D and 3D formats.
The Omron 3D online catalog allows engineers to streamline product development by quickly finding, viewing and downloading a part as a 3D model or 2D drawing directly into their design, checking form and fit prior to purchase. Such a 3D catalog saves product designers valuable design time which they would otherwise spend looking through paper catalogs or on the phone with Omron's sales support staff to find and configure the right component.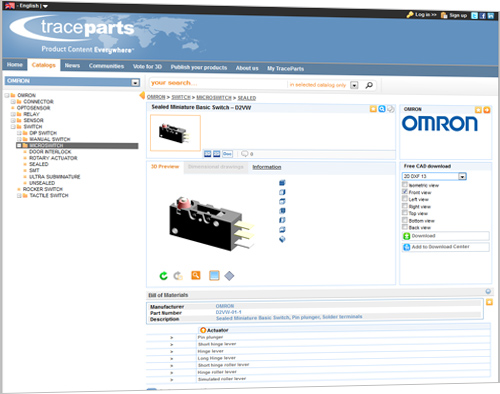 "Getting up-to-date and easy-to-use design information on the Internet is a key aspect of how our customers design products," explained Barclay McKenna, Omron European Marketing Manager. "Our 3D catalog, with its enhanced search and 3D viewing capabilities, was designed by TraceParts with a single goal of making it an everyday resource for product designers to download 3D models in all CAD formats. Less than one year after its public launch, it has already become a critical marketing resource for Omron Europe."
With support for all major CAD systems and a user interface available in 25 languages, TracePartsOnline.net ensures that Omron's customers have instant access to reliable 2D drawings and 3D models from anywhere, anytime.
"Omron use of TraceParts technology is a strong help to build brand loyalty by making it easier and more efficient for their customers to design products with Omron parts" said Gabriel Guigue, TraceParts Managing Director. "Today, best-in-class part vendors like Omron are not only supplying hardware to their customers. They also deliver innovative, reliable and cost-effective value-added services such as free CAD download".
About Omron
With its headquarters in Kyoto, Japan, Omron Corporation is a global leader in the field of automation. Established in 1933 and headed by President Yoshihito Yamada, Omron has more than 35,000 employees in 36 countries working to provide products and services to customers in a variety of fields, including industrial automation, electronic components industries and healthcare. The company has head offices in Japan (Kyoto), Asia Pacific (Singapore), China (Hong Kong), Europe (Amsterdam) and US (Chicago). The European organisation has its own development and manufacturing facilities, and provides local customer support in all European countries. For more information, visit www.components.omron.eu
About TraceParts
TraceParts is a world-leading digital engineering 3D content company, offering progressive business solutions through powerful web based products and services. TraceParts brings targeted and cost-effective market penetration to parts vendors, in all sectors of industry.
As part of the Trace Software Group founded in 1989, TraceParts develops and markets software solutions for CAD part libraries, electronic catalogs and product configurators specifically designed to meet the requirements of the component industry. TraceParts helps customers improve marketing efficiencies by increasing the value of their existing digital product data. The TracePartsOnline.net CAD portal is freely available to millions of CAD users worldwide, with hundreds of supplier catalogs and 100 million CAD models and product datasheets suitable for the Design, Purchasing, Manufacturing and Maintenance processes. For more information about TraceParts, please visit www.traceparts.com