New features and new catalogs available in TraceParts v2.3 brings dramatic productivity increase in the design process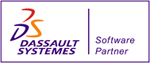 TraceParts S.A. will be exhibiting the new version 2.3 of its standard parts library seamlessly integrated to CATIA V5 at the COE Fall 2003 Conference and TechniFair (booth #308), taking place September 28 – October 1, 2003, at the Washington State Convention and Trade Center in Seattle, Washington.
TraceParts was the first Standard Parts Library to join the DASSAULT SYSTEMES' Software Community Program (SCP) as a Partner in October 2001. Through this development partnership TraceParts is still the only CAA V5 Partner to complement native standard parts catalogs by delivering to CATIA V5 users more than 20 million standard parts directly accessible from DS 3d PLM solutions.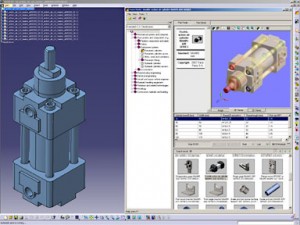 TraceParts leverages the V5 architecture to develop an extensive library of international standard CATIA-native 3D parts. Customers from all industries, and especially Industrial Machinery, Automotive and Aerospace will benefit from all the most commonly used components in mechanical design from the largest names of the mechanical industry: ASCO/JOUCOMATIC, BOSCH, BOUTET, FESTO, INA, LEGRIS, NADELLA, NORELEM, NSK, PARKER, RABOURDIN, SIAM-RINGSPANN, SKF, SMC, SNR,…
TraceParts completely eliminates the time consuming process of finding and modeling international standard and manufacturers' components. The time saved in this way allows the designer to spend more time on the more critical stages of the design process.
About TraceParts
TraceParts is the ideal link between parts manufacturers and drawing offices. It offers a unique software solution for the distribution of CAD models and component information.
TraceParts CD is a very extensive parts library seamlessly integrated within all the main CAD software on the market: CATIA, SOLIDWORKS, Pro/ENGINEER, Solid Edge, Inventor, Mechanical Desktop, thinkdesign, TopSolid, any ACIS, IGES or STEP compatible software.
tracepartsonline.net is a powerful online internet portal that delivers CAD models coming from the same parts database as TraceParts CD (www.tracepartsonline.net).
TraceParts is a new and fantastic means of communication for all parts manufacturers, which brings major productivity benefits to drawing offices, whether they are specialised in the mechanical, electro-mechanical, tooling, aeronautical or automotive sector.
More information about TraceParts is available at www.traceparts.com
TraceParts is being distributed in North America by LionHeart Solutions, Inc.
About LionHeart Solutions, Inc.
LionHeart Solutions was formed in 1999 to offer Consulting & Design Services to companies using Dassault Systemes' CATIA Software. Their services include consulting on implementation plans, design methodology, validation of system architecture & hardware configurations, benchmarking, installation & administration to providing a complete turnkey installation. Check out their services page for further details :www.lionheartsolutions.com
TraceParts is a trademark of TraceParts S.A.
All other products are trademarks or registered trademarks of their respective companies.
For more details :
Gabriel Guigue
TraceParts S.A.
Tel +33 2 32 79 44 38
www.traceparts.com