TraceParts employee stopped only by toxic algae pollen.
Amberg, November 18, 2009 – Last year Christian, who works at TraceParts as a project manager for 3D catalogs, became the third German in History to successfully swim across the Strait of Gibraltar. He completed the swim without wearing a neoprene swimsuit and in water at a temperature of just 18 degrees Celsius (click here for more details about this 2008 adventure: /ja/news-and-events/2008-press-releases/pr30092008/).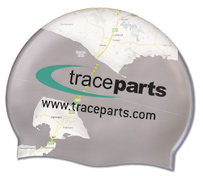 This year he faced his next challenge. This involved conquering the Belt, the stretch of water approximately 25 kilometers wide between Germany and Denmark. Christian was only the tenth person ever to dare attempt crossing the Belt.
His preparations for this challenge had once again gone completely to plan and he was in top form. He had clocked up over 600 kilometers in the water as part of his training, since the start of 2009.
On last August 5th, he entered the 18.5-degree water at Fehmarn, a German island in the Baltic Sea. Due to the huge amount of pollution, he had to fight this time not only against the waves and current, but also against other obstacles, such as the countless jellyfish.
Accompanied by a cutter with his son Vincent on board supporting him, the TraceParts employee covered the first few kilometers, and once he had gone two-thirds of the distance he was on course for an incredible record time.
However, Christian was then faced with a two-kilometer-wide blanket of algae. It quickly became clear that he was unable to swim around it and had to choose a course directly through it. At this moment in time, neither Christian nor the crew of the accompanying local cutter knew that these algae were in bloom and had toxic pollen.
The pollen entered his mouth and nose and was causing him increasing discomfort. Soon after this, Christian first experienced problems with his stomach, which made him physically sick five times. This meant that he could not take any more carbohydrates either. However, giving up was not an option for the long-distance swimmer.
He ploughed his way through the water one kilometer after another, getting ever closer to the Danish coast. The first houses could already be seen on the Danish coast, and with only another 3 kilometers until his destination, he mustered his final strength. But the toxic pollen got the better of Christian and he had to be lifted out of the Baltic Sea exhausted.
His attempt was over after swimming 22 kilometers in four hours and 40 minutes. Christian gave up just three kilometers from the Danish coast, totally exhausted, with signs of poisoning. Sections of the beach were later cordoned off due to the toxic algae pollen that Christian had earlier swum through with persistent self-motivation.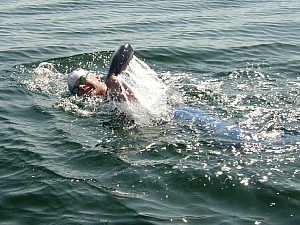 "I will try this crossing three times in total," said Christian, announcing his intention to swim next year.
The entire TraceParts team are already crossing their fingers for him and we will feature another report on his attempt next year.