TraceParts technology lowers design costs for CEPEX' customers by offering easy online access to 2D & 3D CAD drawings of fluid handling components.

Granollers, Spain – September 19, 2005 – CEPEX, a leading manufacturer of thermoplastic valves and fittings, today announced the availability of 2D & 3D CAD drawings for all their PVC, PE and PP product range. Directly accessible from CEPEX home page on www.cepex.com, this online CAD library is available in 6 different languages including English, Spanish, German, French, Italian and Portuguese.
Engineers can now leverage the CEPEX web site to quickly identify, select, view and download CAD drawings of CEPEX plastic components for immediate use into their designs. This free online service saves them the time and effort required to model the parts starting from paper or PDF catalogs. It's also an incredible quality improvement since designers can now rely directly on CEPEX engineering materials, right from the source.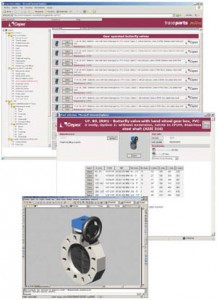 TraceParts technology makes it easy for our customers to find the right product they need, without having to redraw the design, and without having to ask themselves whether they have the latest paper catalog or not, said Ignacio Elburgo, CEPEX' Managing Director. We do believe that this free service will bring a fantastic productivity increase to our existing and prospective customers.
With support for all major CAD systems, TraceParts ensures that CEPEX' customers have access to reliable 2D and 3D CAD drawings regardless of what CAD application they are using. "We selected TraceParts as our exclusive CAD library partner because they have more than 15 years of technical and marketing experience dealing with parts vendors, CAD end-users, and CAD vendors.
This was a very fast-going project because they perfectly understood our requirements", explains Ignacio Elburgo. "CEPEX' use of TraceParts technology is a strong help to build brand loyalty by making it easier and more efficient for their customers to design products with CEPEX parts" said Gabriel Guigue, TraceParts S.A. Managing Director.

"Today, the best parts vendors like CEPEX are not only supplying hardware to their customers. They also deliver innovative, reliable and cost-effective value-added services such as free CAD drawings download".
About CEPEX
Cepex Holding S.A. is one of the european's largest suppliers of fluid handling materials. Its core business is the design, development, production and distribution of thermoplastic valves and fittings which offer a wide number of uses and fields of application. Since 1983, Cepex has grown from a single plant into a worldwide organization with over 15 facilities and more than 500 employees. The Group has developed its business interests around the world. Currently it has operations in more than 60 countries across five continents and its companies export products and services to 140 nations. For further information on CEPEX, please refer to the www.cepex.com website.
About TraceParts S.A.
TraceParts S.A., which belongs to the French Trace Software Group, founded in 1989, develops and markets software solutions for parts libraries, electronic catalogs and product configurations. Combining the content of the TraceParts and powerPARTS libraries has given rise to one of the world's leading CAD parts libraries, with more than 190 manufacturers' catalogs and 80 million CAD drawings. Thanks to the open and high-performance technology inherent in TraceParts for all the main CAD software, 580,000 users have already placed their trust in these parts catalogs throughout their design and manufacturing processes. Spurred on by this worldwide user base, TraceParts can in turn guarantee parts vendors targeted and cost effective market penetration in all sectors of the industry. Parts catalogs from TraceParts can be accessed via www.traceparts.com
TraceParts is a registered trademark of TraceParts S.A. All other trademarks mentioned have been registered by their respective owners.