3D models and product news and information have never been so close.

Mechelen, Belgium and Saint-Romain, France – October 19, 2010 – Thomas Industrial Media and TracePartshave agreed to enter into a cross website media partnership to support industrial professionals across Europe with comprehensive information to complete their design engineering projects.
Users visiting any of the Thomas Industrial Media's website properties, including ien.eu, pcne.eu, technische-revue.eu, pei-france.com, ien-italia.eu and endustri-dunyasi.com are given the opportunity to view and download 3D CAD models from selected suppliers on TracePartsOnline.net.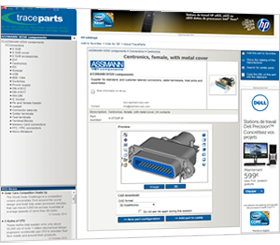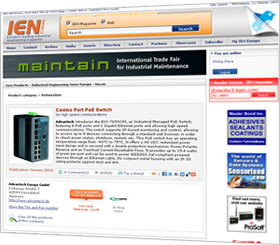 TracePartsOnline.net visitors can complement their information sourcing by finding related products onThomas Industrial Media's websites from suppliers in common.
This international media partnership includes both bilateral cross-linking cooperation and joint efforts to raise market positioning in Europe and in local markets. Mr. Erenberk, Managing Director of Thomas Industrial Media, said, "The partnership between Thomas Industrial Media and TraceParts is another step in our company's mission to bring buyers and suppliers together, and provide a complete print and web product information source to our expert industrial community. We are also delighted about having the perspective of initiating new common projects in the future."

Commenting on the partnership, Gabriel Guigue, Managing Director of TraceParts, said, "We are extremely pleased to partner with such a famous and global engineering media. TraceParts has been delivering innovative 3D marketing solutions for more than fifteen years and this cross-publishing agreement withThomas Industrial Media illustrates our commitment to maximize the exposure of the 3D models of our customers. We believe it's the perfect definition of a win-win partnership."
About Thomas Industrial Media
Thomas Industrial Media, headquartered in Mechelen (Belgium), is the European subsidiary of Thomas Publishing Company of New York. Thomas Industrial Media concentrates fully upon meeting the vital need of industry for up-to-date product information. Since 1975, Thomas Industrial Media, serves the European market through industrial publications, websites, online directories and e-services. With 9 publications, Thomas is a pioneer in providing information to the purchasing process whether through in-depth information search on the internet or via publications that facilitate product marketing and brand recognition. Thomas serves the whole of Europe with IEN Europe, PCN Europe and Power in Motion and serves local markets with Technische Revue in Germany, PEI in France, IEN Italia, Il Distributore Industriale and Manutenzione Tecnica e Management in Italy and more recently Endüstri Dünyasi in Turkey.
Additional information can be found at www.tim-europe.com
About TraceParts
TraceParts is a leading digital engineering 3D content company, offering customers progressive business solutions through powerful web based products and services. TraceParts brings targeted and cost-effective market penetration to parts vendors, in all sectors of the industry. As part of the Trace Software Group founded in 1989, TraceParts develops and markets software solutions for CAD parts libraries, electronic catalogs and product configurators specially designed to meet the requirements of the mechanical industry. TraceParts helps customers improve marketing efficiencies by increasing the value of their existing digital product data.
The tracepartsonline.net CAD portal is freely available to millions of CAD users worldwide, with more than 200 manufacturers' catalogs and 100 million CAD drawings and related technical data suitable for the design, purchasing, manufacturing or maintenance processes.
For more information, please visit www.traceparts.com