The first 3DContentCentral® content partner demonstrates its 10-year commitment to the SOLIDWORKS community.

Saint Romain (France) – January 20th, 2010 – As a member of the Trace Software Group, TraceParts (www.traceparts.com) will join the 2010 SOLIDWORKS World Conference being held in Anaheim, California, from Jan. 31-Feb. 3. The productivity benefits of the TraceParts 3D library of supplier's catalogs and its seamless integration with elecworks™ will be demonstrated in the Partner Pavilion, booth #109. TraceParts has been a SOLIDWORKS Solution Partner since 1998 and it was the first to supply its catalogs on 3DContentCentral® as a content partner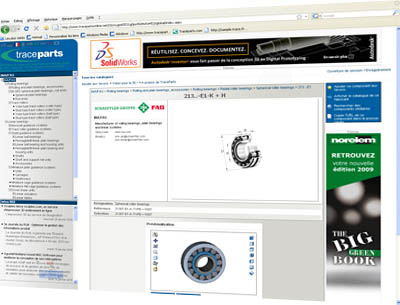 Time is precious and designers have better things to do than model off-the-shelf components for their projects. With over 100 million native 3D CAD models for SOLIDWORKS, the tracepartsonline.net portal completely eliminates the time consuming process of finding and modeling international standard and manufacturers' components. The time saved in this way allows the designer to spend more time on the critical stages of the design process.
TraceParts leveraged the SOLIDWORKS openness to develop an extensive library of standard SOLIDWORKS-native 3D parts. Designers from all industries, and especially those involved in Industrial Machinery, Tooling, Automotive and Aerospace design, benefit from all the most commonly used components from the largest names of the mechanical and electrical industries: Advantech, Asco Numatics, Bosch Rexroth, Cepex, CGI, Contrinex, Dirak, Euchner, Facom, Ganter, GGB, Halder, IFM, Igus, INA/FAG, Kabelschlepp, Legrand, Legris, Mädler, Misumi, Nozag, Schmalz, Schmersal, Schneider Electric, Sherex, SNR, Stauffenberg, TEA, Trelleborg, Vanel and more.
"We are delighted to exhibit once again at the SOLIDWORKS World Conference", says Gabriel Guigue, Managing Director of TraceParts. "For many years now we've been delivering millions of CAD files to designers from our portal tracepartsonline.net, and nothing will ever replace meeting some of them face to face!".
About TraceParts
TraceParts is a leading digital engineering content company, offering customers progressive business solutions through powerful web based products and services. TraceParts helps customers improve marketing efficiencies by increasing the value of their existing digital product data. The tracepartsonline.net CAD portal is freely available to millions of CAD users worldwide. For more information, please visit www.traceparts.com