The first and only CAD catalog portal to be audited by the IVW German independent certification agency.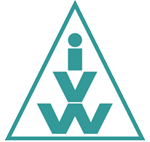 Amberg, Germany – 20 February 2013 – TraceParts, a leading global provider of 3D marketing services, today announced that the traffic of its engineering portal TracePartsOnline.net has been certified since December 2012 by IVW, the independent organization that certifies and audits the circulations of major print and online publications in Germany.
"IVW membership and certification allow us to provide our customers and partners with reliable, verifiable and audited traffic numbers. The objective IVW measurement gives part vendors a neutral validation of their product catalogs exposure, as well as of their advertising messages.
Last month IVW measured over 475,000 visitors and 3.8 million page impressions with banner ads for TracePartsOnline.net, excluding our partners' sites. We know it's a convincing argument for our online services. And we are strongly committed to demonstrating accuracy, reliability and credibility for all the data we publish, not only for our catalog content but also for our traffic results." explains Christian Baumgärtner, TraceParts GmbH Managing Director.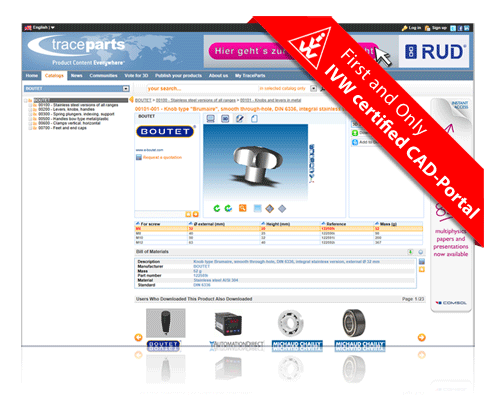 TracePartsOnline.net is the First and Only IVW certified CAD-Portal
To ensure that online media do not exaggerate their audience, visitor numbers and page impressions, there are various institutions engaged in checking the figures given, whose job it is to monitor and verify these details independently. One of the best-known institutions involved in this is the IVW, who has been determining and verifying media circulation in a neutral, impartial way since 1949. As an inspection body that is independent of the state, non-commercial and neutral, the IVW provides the media and advertising industry with vital data for marketing media.
As the first and only organization of its kind as a world-leading B2B portal for the construction industry with over 100 million free CAD models, TracePartsOnline.net is therefore entitled to display the coveted IVW mark which symbolizes neutral and independent quality control.
The TraceParts certified traffic numbers can be viewed at www.ivw.de.
About TraceParts
TraceParts is a world-leading digital engineering 3D content company, offering progressive business software solutions for over 20 years through powerful web based products and services such as CAD part libraries, electronic catalogs and product configurators, helping part vendors to improve marketing efficiencies by increasing the value of their existing digital product data.
The TracePartsOnline.net CAD portal is freely available to millions of CAD users worldwide, with hundreds of supplier catalogs and over 100 million CAD models and product datasheets suitable for the Design, Purchasing, Manufacturing and Maintenance processes. For more information about TraceParts, please visit www.traceparts.com