The unique attachment point PLGW pewag winner profilift gamma allows a tool-free assembly and disassembly

Amberg, Germany – November 20, 2012 – pewag recently has expanded its lifting chain portfolio with qualitatively outstanding lifting points. TraceParts and pewag now present for the first time together this worldwide novelty: the unique attachment point PLGW pewag winner profilift gamma allows a tool-free assembly and disassembly.
This has been achieved through a pewag developed and patented lock construction. Thus the PLGW pewag winner profilift gamma can be easily tightened by hand and aligned in the direction of loading – without additional tools, easy, quick and cost effective. This innovation is perfect for you if frequent assembly and disassembly is necessary and it allows maximum flexibility in use.
The lifting point is thus a 360 ° rotating eye bolt that allows the alignment of the ring in any required direction. The patented and interchangeable special screw is 100% crack-tested as well as covered with a chromate VI-face-protection against corrosion. Marked with WLL and thread size each lifting point is marked with an individual serial number, that allows traceability. The PLGW pewag winner profilift gamma is developed according to the latest standards and offers the highest degree of reliability as well as durability – even in the toughest applications.
According to customer requirements and applications this innovative pewag lifting point now comes in a wide range of load capacities. For more information on the PLGW pewag winner profilift gamma as well as the pewag 3D lifting point portfolio please visit www.pewag.com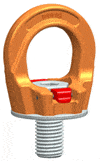 About pewag
pewag has hundreds of years of experience in the manufacturing of chains and their components. Since the first documented reference of its forging plant in Brueckl 1479, pewag group became one of the leading chain manufacturers worldwide. Today its success is based on well-engineered state-of-the-art quality products.
pewag's business areas are mainly snow chains, forestry chains, hoist and conveyor chains, do-it-yourself products, engineering, lifting and lashing chains and accessories and tire protection chains. Modern impressive chain production facilites in Europe allow for this variety of high quality products.
About TraceParts
TraceParts is a world-leading digital engineering 3D content company, offering progressive business solutions through powerful web based products and services. TraceParts brings targeted and cost-effective market penetration to parts vendors, in all sectors of industry.
As part of the Trace Software Group founded in 1989, TraceParts develops and markets software solutions for CAD part libraries, electronic catalogs and product configurators specifically designed to meet the requirements of the component industry. TraceParts helps customers improve marketing efficiencies by increasing the value of their existing digital product data. The TracePartsOnline.net CAD portal is freely available to millions of CAD users worldwide, with hundreds of supplier catalogs and 100 million CAD models and product datasheets suitable for the Design, Purchasing, Manufacturing and Maintenance processes.
For more information about TraceParts, please visit www.traceparts.com