CAD.de, the largest and most active German-speaking community for CAD-CAM-CAE and EDM/PDM/PLM, publishes millions of 3D-CAD models which have been certified by parts manufacturers.

Amberg – 21 April 2008 – TraceParts, one of the world's leading publishers of 3D engineering content, today announced its strategic partnership with CAD.de.
The partnership allows component manufacturers to make their 3D product catalogues downloadable directly on CAD.de, in addition to the many already existing partners' portals. With 81,000 users, the CAD.de community is the largest and most active community for CAD-CAM-CAE and EDM/PDM/PLM in the German-speaking region.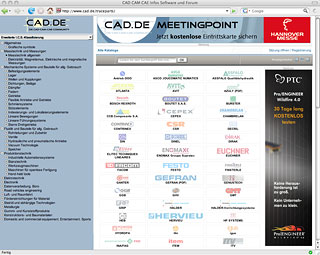 "TraceParts CAD.de edition, i.e. 3D standards and manufacturers' catalogs available as free downloads, fit extremely well to the portal's current service offering. This 3D service now seamlessly complements the CAD.de network", says Albert Ranig, Managing Director of CAD.de.

"The integration on CAD.de provides an additional distribution channel among design and mechanical engineers for our client's 3D standard parts and product data ", states Christian Baumgärtner, Managing Director of TraceParts GmbH.
About CAD.de
Online since May 2000, CAD.de has grown to become the largest CAD-CAM-CAE community in the German-speaking region with a current active member base of 81,000 and more than 2.2 million unique visits per month. One of the most active areas are the more than 500 CAx product forums with over 1.4 million contributions. The forums are divided into the following product areas: AEC, CAD, CAE, CAM, CIM, EDM/PDM/PLM, FEM and NC/CNC. At this time over 170 forums are administered by highly-competent moderators. CAD.de is built on the principle of "Give and take", which ensures a wide spectrum of opinions and guarantees CAD.de's independence. Moreover, CAD.de is the center of a network which consists of a series of unofficial help pages for individual products, and which continues on the Internet pages of important providers and manufacturers through the use of the CAD.de forums. More information is available at: www.cad.de
About TraceParts
TraceParts is a leading digital engineering content company, offering customers progressive business solutions through powerful web based products and services. TraceParts helps customers improve marketing efficiencies by increasing the value of their existing digital product data. The tracepartsonline.net CAD portal is freely available to millions of CAD users worldwide. For more information about TraceParts, please, visit www.traceparts.com