100+ million downloadable 3D CAD models accessible for free from Google 3D Warehouse™.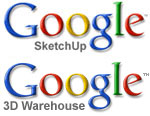 St Romain, France – 22 May 2007 – TraceParts, a leading global supplier of 3D Engineering Content, announces the immediate availability of free supplier collections and SketchUp models on Google 3D Warehouse™. Catalogs from major manufacturers of standard parts have been organized by TraceParts as master collections on Google 3D Warehouse™, each of them containing one native SketchUp model for each product family. Users can then either directly download the model into SketchUp 5 or 6, or jump to the same product family on tracepartsonline.net CAD Library to select another product configuration and download the corresponding model in SketchUp format or any of the many other CAD formats available.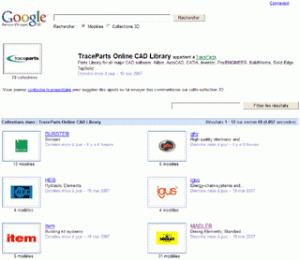 As an innovative supplier of 3D Engineering Content we always help the parts vendors to maximize their catalog exposure. We do believe that being the first Supplier Parts Library to be visible on Google 3D Warehouse™ is something that will directly benefit the supplier", says Gabriel Guigue, Managing Director of TraceParts. "We've reached a key milestone in our global offerings for 3D marketing: joining TraceParts' fast growing community as a parts manufacturer now also means joining the Google SketchUp community. That makes a lot of sense when it comes to being more visible on the Internet!".
All TraceParts collections and models available on Google 3D Warehouse™ are easily and quickly searchable thanks to the rich metadata published together with the 3D model itself, including the part description, the part reference and the product categories in which it is classified. Those categories include fasteners, bearings, shaft and couplings, seals, springs, gears, flexible drives and transmissions, support, indexing and locating elements, linear motion systems, flanges, reducers, elbows, valves, pneumatic and hydraulic fittings, actuators and cylinders, profiles, mold and die components, sensors, connectors and more.
As a critical and unique resource for every mechanical designer in the tooling, machinery, aerospace, automotive industries and virtually any industry which uses purchased parts, TraceParts enlarges the scope of use of Google SketchUp to the mechanical and manufacturing CAD communities.
SketchUp users are now just a mouse click away from more than 100 millions of standard parts coming from leading suppliers: Asco Joucomatic Numatics, Assfalg, Atlanta, Bosch Rexroth, Boutet, Burster, Cepex, Chambrelan, Contrinex, CSR, Dirak, Drumag, Elitec, ENOMAX, Enzfelder, Euchner, Expert, Festo, Ganter, Genustech, Gerwah, GMT, Halder, Hervieu, HP Systems, Hydropa, IFM, Igus, INA/FAG, Item, ITV, Kabelschlepp, Kinetic, Legrand, Legris, L'Etoile, Mädler, Mayr, Mecalectro, Misumi, Norelem, Norgren, Normydro, Nozag, Pinet, Progressus, Quiri, Rabourdin, Rodriguez, Rohde, Römheld, Rötelmann, Rud, Sapelem, Schmalz, Schmersal, Siam-Ringspann, Sick, SNR, Socafluid, Somex, Stauffenberg, Ströter, Stüwe, Suhner, Sumer, Telemecanique, Trelleborg, Wefapress, Winkel, Zimm and more.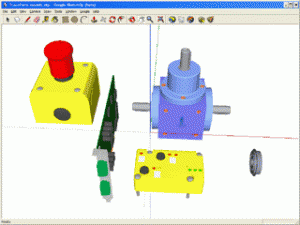 About Google SketchUp™
Developed for the conceptual stages of design, Google SketchUp is a powerful yet easy-to-learn 3D software. It combines a simple, yet robust tool-set with an intelligent drawing system that streamlines and simplifies 3D design. From simple to complex, conceptual to realistic, Google SketchUp enables you to build and modify 3D models quickly and easily. If you use Google Earth, Google SketchUp allows you to place your models using real-world coordinates and share them with the world using the Google 3D Warehouse. The 3D Warehouse is a feature of SketchUp that lets you search, share, and store 3D models. For more information, visit: www.sketchup.com
About TraceParts
TraceParts is a consulting-oriented software developer specialized in 3D Engineering Content. As part of the Trace Software Group founded in 1989, the company develops and markets software solutions for CAD parts libraries, electronic catalogs and product configurators specially designed to meet the requirements of the mechanical industry. Combining the content of the TraceParts and web2CAD powerPARTS libraries has given rise to one of the world's leading CAD parts libraries, with more than 200 manufacturers' catalogs and 100 million CAD drawings. Thanks to the open and high-performance technology inherent in TraceParts for all the main CAD software, more than 600,000 users are already using TraceParts catalogs throughout their design, purchasing, manufacturing or maintenance processes. For more information, visit: www.traceparts.com