Sherex to offer engineers and designers 3D models of "as installed" rivet nuts and plugs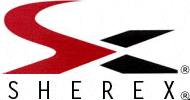 Wilton, New Hampshire – July 22, 2008 – rivet nut manufacturer Sherex is now using the TraceParts Internet service to provide a 3D interactive online catalog for engineers and designers. Sherex customers will be able to configure rivet nut fasteners along with passage sealing plugs and then download 3D CAD models of the products in an "as installed state" directly into their designs.
Sherex offers an extensive line of rivet nuts that are ideal for providing load-bearing threads in thin materials and blind applications. In addition to manufacturing the highest-quality rivet nuts in the world, Sherex also provides sealing plugs that install in one step—and provide a leak-proof seal every time.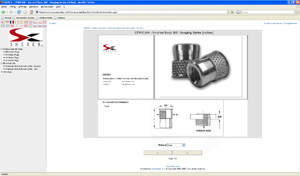 "Our customers were asking for 3D models of our products to include in their designs", says Jill Caffery, Sherex director of marketing. "The catch was, they wanted the models delivered in an 'as installed' state rather than 'as purchased' state; and on top of that they wanted them delivered in a variety of CAD system formats. TraceParts allows us to satisfy both needs."

"Sherex has been providing sealing solutions in the highly competitive automotive and fluid power industries for over 30 years," said Bob Noftle, president of TraceParts, Inc. "They are consistently upgrading their product offerings based on the needs of their customers. In 1989 they expanded their product line to include blind rivet nuts, and subsequently added brass inserts, installation tools and other specialty fasteners. TraceParts helps Sherex strengthen relationships with its customers by saving them time and helping them to make better design decisions faster than with paper-based catalogs."
About Sherex
Sherex is a leader in the design, manufacture, and distribution of rivet nuts. Their complete line of American and European style products are manufactured to a high quality standard, as they are a TS16949 certified manufacturer, along with ISO 9001:2000 accredited. For over 30 years Sherex has also been the North American leader in providing fluid power sealing solutions. Sherex was founded in 1979 in Buffalo, New York and has been voted "Best Place to Work" by Business First. For additional information about Sherex please visit: www.sherex.com
About TraceParts
TraceParts is a leading digital engineering content company, offering customers progressive business solutions through powerful web based products and services. TraceParts helps customers improve marketing efficiencies by increasing the value of their existing digital product data. The tracepartsonline.net CAD portal www.tracepartsonline.net is freely available to millions of CAD users worldwide. For more information about TraceParts, please visit www.traceparts.com