Configuring Rather than Designing: Create the Perfect Robot Gripper Online in Less Time

Amberg, Germany – January 23, 2013 – Vacuum technology specialist J. Schmalz presents its modular vacuum end effector (VEE) for the packaging industry. With the new software (CADClick®) from Schmalz, end effectors can now be configured within the TraceParts online solution in just a few minutes.
Speed and flexibility are the main challenges for industrial packaging processes, whether the application requires case packers, top-loaders or cardboard box and tray erectors. Whereas previously, a custom-manufactured gripper for each format was used on packaging machines, vacuum end effectors from Schmalz can be flexibly configured and modified, and now this process has been made even faster and more convenient.
Schmalz has recently released new software that allows the user to combine various flanges, connectors and suction pads to create an end effector in just a few clicks. This online configuration software is free at www.schmalz.com/vee: The user simply has to log on, enter the workpiece specifications, the number of suction pads, the suction pad size, and the desired gripper version. Next, the user only has to define the suction pad positions and the connection components such as robot flange plates and the flange module for vacuum feed. All of the components are perfectly coordinated.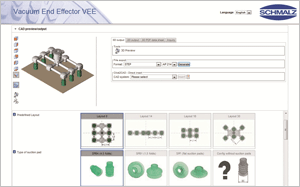 Configuring rather than designing: Using the online configurator, a vacuum end effector can be designed in just a few steps
"Configuring rather than designing" – that is the principle of this software, which reduces the work required to design a gripper to a minimum: With the VEE configurator, the end effector is created in less than ten minutes. Furthermore, this simple configuration method eliminates design flaws. Changes can be followed step by step using the live preview in 3D view. The 3D model of the gripper can be easily integrated into existing CAD design programs. Immediately after configuration, the user receives an e-mail that includes a parts list in PDF format and the complete CAD files, and can then order the end effector directly via e-mail. Online configuration also reduces manufacturing time by more than 80 percent.
Individually tailored to the application
The modular end effector VEE can be configured with one suction pad (size: 38 x 38 mm, weight: 65 g) all the way to a maximum of twelve suction pads (size: 300 x 200 mm, weight: 500 g). Based on the requirements of their application, the user selects the suction pads they need from Schmalz's highly specialized product range: for handling delicate foil or blister packaging (SGPN series), stable cardboard boxes (SPF), slightly flexible product packaging (SPB1) or filled bags and flow-wrap packaging (SPB4). The VEE can grip loads weighing up to 2000 g regardless of the product type and, with process accelerations of up to 10 g (100 m/s²), it meets the speed requirements for the pick and place processes that are typical for the packaging industry.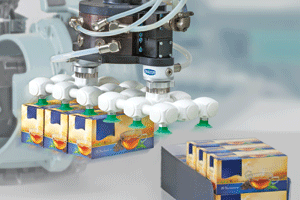 Freely configured vacuum end effector: When used in connection with the wide selection of suction pads, the possibilities are practically endless.
A further advantage: the standard quick-change adapter reduces changeover times for the VEE to a minimum. This makes it particularly well-suited to the consumer goods industry. In this field, the trend continues to move towards handling many different kinds of products in smaller and smaller batches, and often a packaging line will only run one type of product for a few hours before the format needs to be changed. Another advantage of the VEE is the hose-free vacuum distribution within the system, which reduces possible leakage and ensures greater efficiency and faster response times.
All VEE elements are made of FDA and BfR-compliant polyphenylsulfone (PPSU). The surfaces of the elements are easy to clean and are resistant to alkaline cleaning agents. This makes them suitable not only for the packaging industry but especially for use in the food processing industry.
About Schmalz
Schmalz is one of the leading global suppliers in the fields of automation, handling and clamping technology and offers innovative and efficient vacuum solutions to customers in numerous different industries. Schmalz products are used in a wide variety of production processes – for example, as grippers on robot arms in the production of car bodies, in CNC machining centers as clamping solutions for furniture pieces, or used by an operator to lift items ranging from boxes to solar modules. Customers can either choose from Schmalz's wide range of components or benefit from a complete solution which has been specifically tailored to suit their needs. Schmalz is a strongly client-oriented company that is dedicated to groundbreaking innovation, exceptional quality and providing a comprehensive consultancy service. In total, the company employs 700 people at its headquarters in Glatten, in the Black Forest, and at its 15 overseas branch offices.
About TraceParts
TraceParts is a world-leading digital engineering 3D content company, offering progressive business software solutions for over 20 years through powerful web based products and services such as CAD part libraries, electronic catalogs and product configurators, helping part vendors to improve marketing efficiencies by increasing the value of their existing digital product data.
The TracePartsOnline.net CAD portal is freely available to millions of CAD users worldwide, with hundreds of supplier catalogs and over 100 million CAD models and product datasheets suitable for the Design, Purchasing, Manufacturing and Maintenance processes. For more information about TraceParts, please visit www.traceparts.com