KOMPAS-3D now provides direct access to TraceParts catalogs

25 February 2008 – ASCON Group, a developer of software solutions for Mechanical Computer-Aided Design – KOMPAS-3D, and TraceParts, a consulting-oriented software developer specialized in 3D engineering content, announce the successful integration of their respective solutions. Now KOMPAS users are able to work directly with the TraceParts library – one of the largest Mechanical Parts libraries in the world, and to import more than 100 million 3D CAD models and 2D drawings, containing European-based and other parts suppliers in the tooling, machinery, aerospace, automotive and many others industries.
TraceParts library, with catalogs of manufacturers and standard parts coming from all the leading parts suppliers, is now directly accessible from within KOMPAS-3D V9 – the selected parts are available in the KOMPAS native format and automatically inserted into the current assembly as native 3D models. All the advantages of this library in a combination with powerful solution for professional parametric 3D modelling and 2D drafting KOMPAS-3D allow engineers, designers and other KOMPAS users to considerably increase productivity and drawing accuracy by using the parts already available in TraceParts catalogs.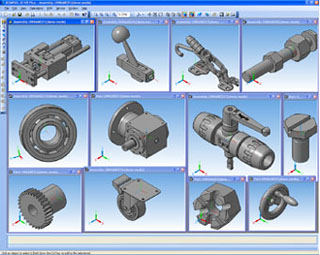 "Integration with TraceParts is a very important step for ASCON in adjusting our KOMPAS solutions for worldwide markets. We constantly improve and update KOMPAS-3D to provide our customers with the newest and the most complete mechanical CAD functional and with help of TraceParts library we extend our own database with a variety of leading parts supplier catalogs. Now users of KOMPAS can increase their productivity by reducing time for designing with the library and, as a result, to cut down the production costs and to raise effectiveness of an industrial enterprises as a whole", – said Maxim Bogdanov, CEO of ASCON Group.

" We are very pleased to partner with ASCON ", says Gabriel Guigue, Managing Director of TraceParts. "We believe this new integration of TraceParts catalogs will bring an incredible additional marketing exposure to all the parts vendors who work with us to create and publish their 3D catalogs, while users of KOMPAS will dramatically increase their design productivity by not having to redraw standard parts anymore."
About ASCON
ASCON – CAD/CAM/PLM developer and integrator founded in 1989. ASCON software solutions address key issues of engineering design, such as preparation and release of drawing and design documentation, business process development and engineering data management. Hight-tech software from ASCON have been success-stories/successfully used across various industries: machinery, automotive, shipbuilding, aerospace and defense, architecture, electronics and many others. The Mechanical Computer-Aided Design solutions from ASCON, KOMPAS-3D, provides effective Industrial Product Development, Parametric 3D Solid Modelling, full-scale 2D Design, special add-ons for photo rendering, motion simulation, kinematic and dynamic analysis.
For more information about ASCON, please, visit www.ascon.net
About TraceParts
TraceParts is a leading digital engineering content company, offering customers progressive business solutions through powerful web based products and services. TraceParts helps customers improve marketing efficiencies by increasing the value of their existing digital product data. The tracepartsonline.net CAD portal is freely available to millions of CAD users worldwide.
For more information about TraceParts, please, visit www.traceparts.com