TraceParts S.A. will be showing a new release of its standard parts library compatible with all the main CAD software at the MICAD 2003 exhibition (booth #G62, Hall 3), taking place on April 1-2-3, at Paris Expo, France.
TraceParts new release includes the following new features :
– a new and powerful 2D viewer with 2D export capabilities (either DWG or DXF formats)
– possibility to connect TraceParts content with external data (PDM information, prices, internal references, …)
– many new parts catalogs such as ASCO/JOUCOMATIC, AMF, BOUTET, HP SYSTEMS, LEGRIS, NSK, SNR, …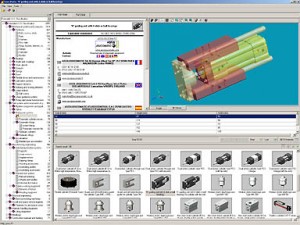 TraceParts completely eliminates the time consuming process of finding and modelling international standard and manufacturers' components. The time saved in this way allows the designer to spend more time on the more critical stages of the design process.
About TraceParts
TraceParts is the ideal link between parts manufacturers and drawing offices.
It offers a unique software solution for the distribution of CAD models and component information.
TraceParts CD is a very extensive parts library seamlessly integrated within all the main CAD software on the market: SOLIDWORKS, Solid Edge, Inventor, Mechanical Desktop, thinkdesign, TopSolid, CATIA, Pro/ENGINEER, any ACIS, IGES or STEP compatible software.
tracepartsonline.net is a powerful online internet portal that delivers CAD models coming from the same parts database as TraceParts CD (www.tracepartsonline.net).
TraceParts is a new and fantastic means of communication for all manufacturers, which brings major productivity benefits to drawing offices, whether they are specialised in the mechanical, electro-mechanical, tooling, aeronautical or automotive sector.
TraceParts is being distributed worldwide through a channel of Value Added Distributors and Resellers.
More information about TraceParts is available at www.traceparts.com
Traceparts is a trademark of TraceParts S.A.
All other products are trademarks or registered trademarks of their respective companies.
For more details :
Gabriel Guigue
TraceParts S.A.
Tel +33 2 32 79 44 38
www.traceparts.com