The online marketplace serving the global manufacturing community launches its Partnership Program in Europe. MFG.com is pleased to announce a partnership with TraceParts, a world leading digital engineering 3D content company.

Geneva, June 25, 2008 – MFG.com chose TraceParts to launch its Partnership Program and to come along with the development of its service for European engineers. As part of the Trace Software Group founded in 1989, TraceParts develops and markets software solutions for CAD parts libraries, electronic catalogs and product configurators specially designed to meet the requirements of the mechanical industry.
 "We have in common many customers, our service is complementary. When MFG.com told us about the partnership program, I was very enthusiastic about involving TraceParts. The program is transparent and full of opportunity, I am convinced of its success-stories/success" says Gabriel Guigue, TraceParts General Director.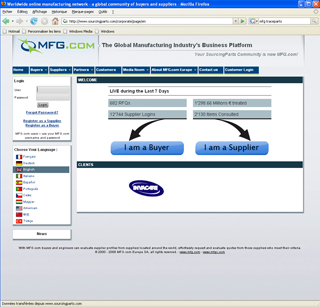 Synergies between the two companies and their worldwide service complementarities give the partnership great perspectives. MFG.com selects TraceParts for its key success-stories/success factors: a strong and faithful community, a reference service in the industrial world, active expansion plans and an audacious management. Indeed, the online marketplace chose to invest in a partnership program to support its development and expansion strategy in Europe, Middle-East and Africa.
With more than 120'000 members, MFG.com proposes to share its extraordinary growth with its partners. As a partner, TraceParts reaches the largest industrial community in the world and obtains the opportunity to promote its service. The digital engineering content company can also generate income by promoting MFG.com to its customers and networks. The program is based on the "pay to performance" principle. The partner is directly remunerated on the MFG.com connection licence sold.
Our Partnership Program helps our customers to reach their objectives, to increase profitability and to position in order to take part to the MFG.com extraordinary growth explains Kai Deininger, Managing Director of MFG.com's European office. The interest of the Partnership Program is clear for many companies. Publication groups as Trade Media International in Poland, Prestij Publication in Turkey already joined it.
About MFG.com
MFG.com is the largest global online marketplace for the manufacturing industry. By giving members the power to conduct business regionally or around the world, MFG.com has consolidated the once-fragmented world of manufacturing into an efficient community, enabling products to be brought to market faster and more cost effectively. The MFG.com solution works in 11 languages and has over 120,000 buyers and suppliers on five continents that connect instantly without geographical barriers. MFG.com merged with Europe's leading sourcing marketplace in 2006 bringing together two of the world's most robust manufacturing communities. With offices in North America, Europe and Asia, MFG.com is the most powerful marketplace for manufacturers. For more information, please visit: http://www.mfg.com/partners/manufacturing/traceparts
About TraceParts
TraceParts is a leading digital engineering content company, offering customers progressive business solutions through powerful web based products and services. TraceParts helps customers improve marketing efficiencies by increasing the value of their existing digital product data. The tracepartsonline.net CAD portal is freely available to millions of CAD users worldwide. For more information about TraceParts, please, visit www.traceparts.com