Dedicated to TraceParts and more globally to the Parts Libraries, the 6th issue of the free 3D PDF newsletter allows everyone to manipulate with Adobe Reader a simplified model of the world largest commercial airplane, and one animated assembly of pneumatic fittings from Legris.
The 6th issue of the (3D)2 magazine (to be read as "3D square"), the first free newsletter about 3D … in 3D, is focusing this month on the TraceParts company.
TraceParts offers downloadable 3D models of standard parts to all the CAD users in the world, featuring 100+ million CAD drawings compatible with all the leading formats and enabling mechanical engineers to boost their productivity when designing equipments (machinery, tooling, …).
Parts manufacturers and distributors can include their products in TraceParts CAD Library to get them published to 600,000 potential buyers, especially from the design, production and maintenance departments.
Additionally to the A380 air plane, the 6th issue of (3D)2 magazine also contains two other 3D models to manipulate and animate: an assembly of LEGRIS components for industrial fluids and an AIRBUS tooling designed with TraceParts components.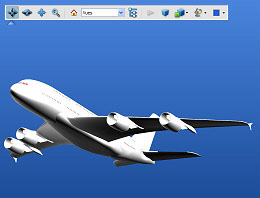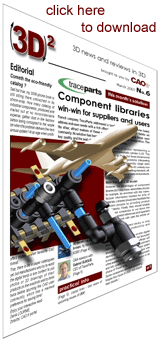 Exclusive content of this newsletter:
> Parts libraries: win-win for suppliers and users
> Legris: "we must have quality in our on-line components too"
> Manufacturers – Communicate to 600,000 CAD users
> User viewpoint – Streamlined tooling design process for Airbus
> TraceParts Enterprise: Customized TraceParts
> Special bonus: manipulate in 3D a simplified model of the A380 Airbus jet
About CAO.fr
CAO.fr is a French-language portal dedicated to CAD, CAE, PLM, virtual reality and rapid prototyping. CAO.fr has launched (3D)2 in October 2006, the first magazine on 3D – in 3D. This free publication in PDF format, enables readers to manipulate models created using Adobe Systems' Acrobat 3D and published in Adobe PDF format, illustrating the month's topics on the screen. To make full use of its 3D capabilities, readers will need the free Adobe Reader v7.8 (or higher).
More details on www.cao.fr
About TraceParts
TraceParts is a consulting-oriented software developer specialized in 3D Engineering Content. As part of the Trace Software Group founded in 1989, the company develops and markets software solutions for CAD parts libraries, electronic catalogs and product configurators specially designed to meet the requirements of the mechanical industry. Combining the content of the TraceParts and web2CAD powerPARTS libraries has given rise to one of the world's leading CAD parts libraries, with more than 200 manufacturers' catalogs and 100 million CAD drawings. Thanks to the open and high-performance technology inherent in TraceParts for all the main CAD software, more than 600,000 users are already using TraceParts catalogs throughout their design, purchasing, manufacturing or maintenance processes.
For more information, visit: www.traceparts.com