Exclusive media cooperation with the tracepartsonline.net portal.

Würzburg – Germany, January 27, 2009 – An entire library filled with construction elements and a vast amount of expert information – this strong synergy with its great utility for constructors – is nw offered by two important market partners.
Today the specialized media brand "konstruktionspraxis" announced its strategic partnership with TraceParts, one of the world's leading publishers of 3D engineering content. Two important B2B partners have joined forces here to support manufacturers of machinery and industrial equipment.
Through this cooperation, both partners are achieving a much higher reach in the target group "design and construction" and promoting the dynamic exchange between manufacturers and users.
The expert information in the trade medium for constructors, prepared in a high quality specifically for this medium, is now also available to all visitors of the German-language online areas of tracepartsonline.net.
The great benefit: The integration of the TraceParts CAD library in www.konstruktionspraxis.de makes it possible for the users to access millions of 3D CAD models that are provided by the manufacturer free of charge.
Bernd Weinig, publisher of "konstruktionspraxis": "I'm pleased that two strong partners have come together here. This means that we can effectively connect attractive 3D services provided by TraceParts with innovative formats from our cross-media concept and offer manufacturers as well as users a unique utility through excellent synergy effects."

Christian Baumgärtner, Managing Director of TraceParts GmbH: "We are greatly pleased about this partnership, since the business efficiency portal www.konstruktionspraxis.de occupies an outstanding position in our area of activity. Most of the users of this trade medium are also potential users of our online and DVD-based parts library. This means that we are offering a significant added value for manufacturers and users."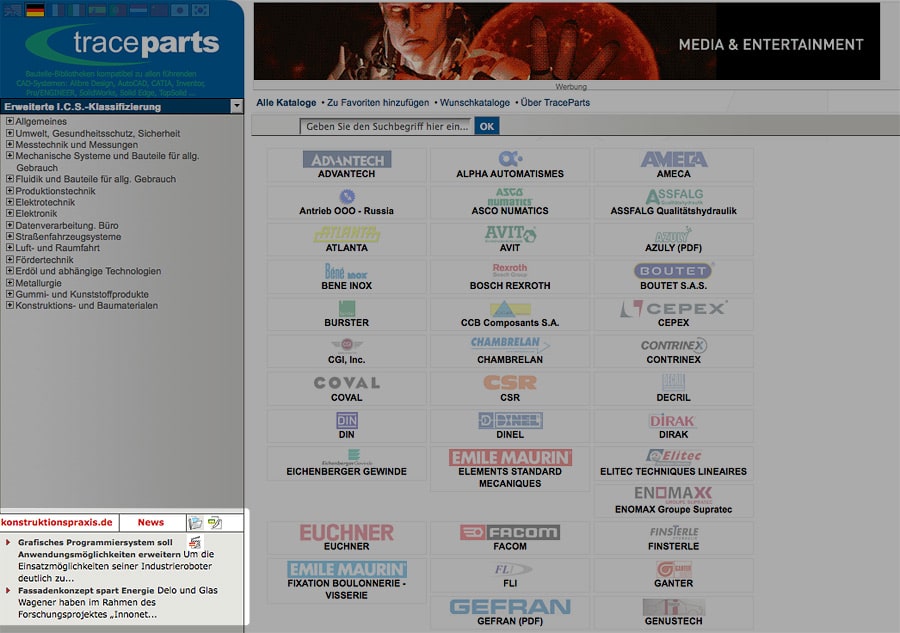 The provided news from "Konstruktionspraxis" are seamlessly integrated in the tracepartsonline.net user interface.
The news are displayed context-sensitive. This means that every user on tracepartsonline.net is provided with daily updated informations that thematically refer to the browsed parts.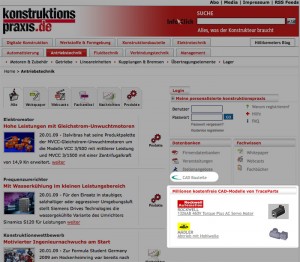 In the category "Databases" visitors of the Konstruktionspraxis-Portal can directly browse
the millions of available parts in the tracepartsonline.net parts library and download them for free.
Depending on the browsed theme channel on konstruktionspraxis.de, two exemplary parts available in the TraceParts CAD library are displayed.
About "konstruktionspraxis":
With its business efficiency portal konstruktionspraxis.de, the media brand konstruktionspraxis presents a many-layered, multimedia and interactive offer of trade and product information as well as news for constructors and developers.
The media brand, through konstruktionspraxis, the machine-building construction title with the highest reach and with an innovative cross-media concept, offers the unique possibility of networking different media channels and advertising carriers in respect to content, creatively and formally, and is thereby the leading brand in the specialized media segment of construction/CAD/CAM.
About Vogel Business Media:
The trade media company is one of the leading German providers of specialized information with around 100 trade magazines and 60 websites as well as numerous international activities.
It is headquartered in Würzburg. The print and online media primarily serve the sectors of industry, cars, information technology and law/economics/taxes. To advertising professionals, they offer customized communication solutions ranging from reach and image development to the generation of leads.
About TraceParts:
TraceParts is a leading digital engineering content company, offering customers progressive business solutions through powerful web based products and services.
TraceParts helps customers improve marketing efficiencies by increasing the value of their existing digital product data. The tracepartsonline.net CAD portal is freely available to millions of CAD users worldwide. For more information about TraceParts, please visit www.traceparts.com