Top of the web popularity stakes means more marketing exposure to hundreds of TraceParts 3D catalogs

Saint Romain, France – June 03 2013 – TraceParts, a leading global provider of 3D marketing services, has announced today that its website is world # 1 on www.Alexa.com in the Parts Libraries category: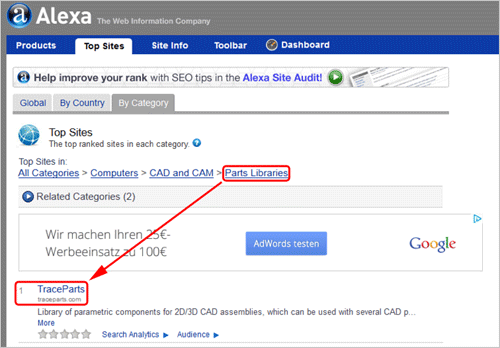 TraceParts provides the worldwide community of engineers and designers with an extensive online source of technical data from more than 100 million products from hundreds of certified catalogs from component suppliers. These data include native and neutral CAD models, PDF datasheets, product specifications and sourcing data, all of which can be accessed via an intuitive user interface. These data are available for free to registered users on TracePartsOnline.net.
"It's a great professional recognition for our web site and for all our customers. It means they have made the right marketing choice by publishing their 3D catalogs on TracePartsOnline.net", explains Gabriel Guigue, TraceParts Managing Director. "Last month alone, we have recorded 6 million page views, 680,000 visits and brought over 59,000 new qualified sales leads to our customers. Some people might think those numbers are too good to be true, but we're the only one online CAD library whose traffic is certified by an independent third party!"
With over 1.5 million registered members to date, TracePartsOnline.net is one of the most dynamic and fastest growing global engineering and design communities. Focused on delivering the best-in-class and seamless user experience for searching, configuring and downloading 3D CAD models, TraceParts is continuously improving its Search Engine Optimization (SEO) expertise to make the portal extremely visible on Web search engines.
About Alexa
The Global Leader in Analytics.
Alexa is the leading provider of free, global web metrics. Search Alexa to discover the most successful sites on the web by keyword, category, or country. Use their analytics for competitive analysis, benchmarking, market research, or business development. Use Alexa's Pro tools to optimize your company's presence on the web.
About TraceParts
TraceParts is a leading digital engineering content company, offering progressive business solutions through powerful web based products and services. TraceParts helps customers improve marketing efficiencies by increasing the value of their existing digital product data. The TracePartsOnline.net CAD portal is freely available to millions of CAD users worldwide. For more information about TraceParts, please visit www.traceparts.com