100+ million native 3D models are just mouse clicks away from Inventor User Community.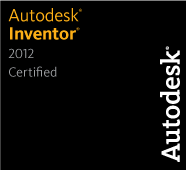 St Romain, France – March 29, 2011 – TraceParts today announced that its 3D library of suppliers and standard parts catalogs has been certified for Autodesk Inventor 2012 3D mechanical design software through the Autodesk Inventor Certified Applications Program. Digital Prototyping with Autodesk Inventor software gives manufacturers the ability to digitally design, visualize and simulate how a product will work under real world conditions before it is built, which helps reduce cost and increase efficiency. Through this technical and marketing achievement, TraceParts reinforces its long-lasting partnership with Autodesk, having been a member of the worldwide Autodesk Developer Network (ADN) for 16 years.
TracePartsOnline.net 3D component library is one of the largest parts libraries in the world, offering 100+ million 3D CAD models & 2D drawings, including both industry standard parts as well as products from hundreds of manufacturers' catalogs used by the tooling, machinery, aerospace and automotive industries. Users can browse or search for products, configure product options, create dynamic 3D previews, and insert native Inventor 3D product models directly into their designs together with their Bill of Materials (BoM) attributes.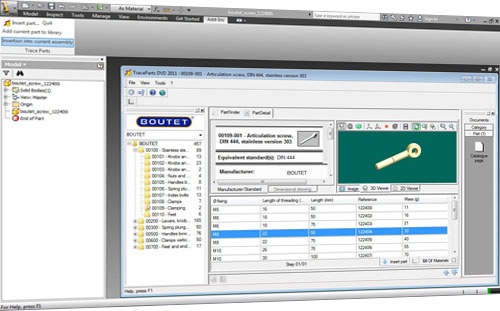 "Engineers are far more dependent on manufactured content than ever before, and this certification demonstrates our commitment to meeting the needs of our global customers," said Jim Quanci, director of Autodesk Developer Network. "TraceParts provides easy and quick access to millions of native-format Autodesk Inventor models of the parts our customers use every day. So now, the Inventor Community can concentrate on designing and innovating new products instead of wasting time and effort modeling parts they don't manufacture."

"We are extremely pleased to be once again the first 3D Parts Library to reach the Autodesk Inventor 2012 Certification," said Gabriel Guigue, TraceParts Managing Director. "Time to market is crucial to Autodesk Inventor customers, and we know that over 80% of CAD models that mechanical designers add to their parts list are later purchased. This is why we strongly believe this Inventor 2012 certification will bring fantastic additional marketing exposure to our hundreds of 3D catalogs."
About TraceParts
TraceParts is a leading digital engineering 3D content company, offering progressive business solutions through powerful web based products and services. TraceParts brings targeted and cost-effective market penetration to parts vendors, in all sectors of the industry.
As part of the Trace Software Group founded in 1989, TraceParts develops and markets software solutions for CAD parts libraries, electronic catalogs and product configurators specifically designed to meet the requirements of the mechanical industry. TraceParts helps customers improve marketing efficiencies by increasing the value of their existing digital product data.
The tracepartsonline.net CAD portal is freely available to millions of CAD users worldwide, with hundreds of supplier catalogs and 100 million CAD models and product datasheets suitable for the design, purchasing, manufacturing or maintenance processes.
For more information, please visit www.traceparts.com
Autodesk, Autodesk Inventor and Inventor are registered trademarks or trademarks of Autodesk, Inc., in the USA and/or other countries. TraceParts is a registered trademark of TraceParts SA. All other brand names, product names, or trademarks belong to their respective holders.