Advantech to offer engineers and designers 3D models of eAutomation Products

Wilton, New Hampshire – July 29, 2008 – Industrial automation leader Advantech is now using the TraceParts Internet service to provide 3D product models, for engineers and designers, through their eAutomatioPro web site. Advantech's customers will be able to select the right product for their needs and then download 3D CAD models of the products into their designs.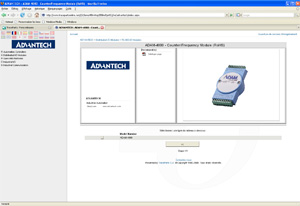 Advantech provides Open HMI platforms, Industrial Ethernet, Automation Controllers, Automation Software, Embedded Automation Computers, Distributed I/O Modules, Plug-in I/O, and Industrial Communication solutions to a wide array of industries.
"Our customers around the world were asking for 3D models of our products to include in their designs", says Lynette Andersen, Marketing Manger Advantech Industrial Automation Group. "The catch was they wanted the models delivered in a wide variety of CAD system formats. TraceParts allows us to satisfy those needs."

"Advantech has been providing industrial automation and communication solutions for 25 years," said Bob Noftle, president of TraceParts, Inc. "They offer comprehensive system integration hardware, software, customer-centric design services, global logistics support and an industry-leading front and back office e-business infrastructure. TraceParts helps Advantech strengthen relationships with its customers by saving them time and helping them to make better design decisions faster than with paper-based catalogs."
About the Advantech Industrial Automation Group
Founded in 1983, the Industrial Automation Group of the Advantech Corporation is a pioneer in eAutomation technology; combining connectivity, flexibility and ruggedness with today's most reliable PC-based automation technologies. US operations for the Industrial Automation Group are based in Cincinnati, OH. For more information about the eAutomation Group please visit: www.advantech.com/ea
About TraceParts
TraceParts is a leading digital engineering content company, offering customers progressive business solutions through powerful web based products and services. TraceParts helps customers improve marketing efficiencies by increasing the value of their existing digital product data. The tracepartsonline.net CAD portal is freely available to millions of CAD users worldwide. For more information about TraceParts, please visit www.traceparts.com