Issue 34 of (3D)² – the newsletter on 3D, in 3D – is devoted to TraceParts and its component library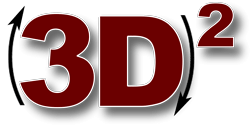 In this issue, you can use Adobe Reader to navigate a 3D model of an azimuth alignment tool designed by the Mechanical Engineering Design Offices at Michelin, and a model of the famous Raspberry Pi from RS Components.
Staying true to its new tagline "Product Content Everywhere", TraceParts has delivered on its promise enabling designers and engineers downloaded 33 million models world-wide in 2012 from TracePartsOnline.net. That works out to one download every second, day and night! TraceParts doesn't just offer 3D CAD models. You can also find technical datasheets, specifications, marketing documents, and more on TracePartsOnline.net. It is where component manufacturers provide online access to their products, even integrating 3D models within their sites and across the TraceParts network of partner sites. It has become indispensable not only for designers and engineers looking to save time, but also for companies seeking to manage their part inventory and streamline the purchasing process. TraceParts really does provide "product content everywhere".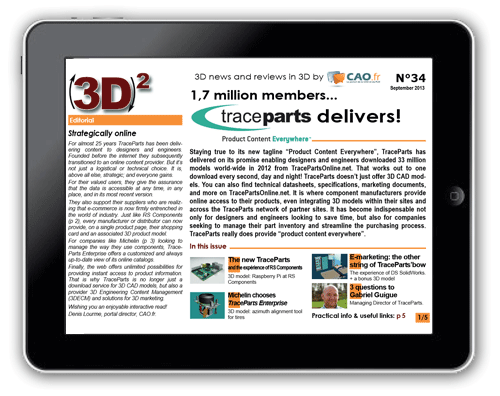 Download the newsletter and manipulate three 3D models: the Michelin azimuth alignment tool, RS Components' Raspberry Pi, and a bonus 3D model created using SOLIDWORKS Electrical.
In this issue
The new TraceParts and the experience of RS Components
Michelin chooses TraceParts Enterprise
E-marketing : the other string of TraceParts'bow, the experience of DS SolidWorks
Website statistics, TraceParts Enterprise, partners : 3 questions to Gabriel Guigue, Managing Director of TraceParts
(3D)² is the first publication dedicated to 3D work (CAD, virtual reality, CAE, etc.), in which models can be manipulated on screen. It is free and leverages the power of Adobe's 3D PDF format. Regularly, over 4 pages or more, it zooms in on a software or hardware solution and a key market player.
To read (3D)² and benefit from the 3D model manipulation functions, you need to open the PDF file in the freeware Adobe Reader (version 8.1 or later) rather than in your web browser.
About CAO.fr
CAO.fr is a portal dedicated to computer-assisted design and, more generally, to PLM (Product Lifecycle Management) tools: design, calculation, manufacturing, rapid prototyping, virtual reality, and the like. Freely downloadable in PDF format—whose new 3D features it exploits—the (3D)² newsletter showcases the 3D viewing and interactive manipulation techniques that are destined to become part of our everyday lives (marketing brochures, assembly instructions…), a process that is already well under way in many companies (collaborative working, technical notes, etc). More details at www.cao.fr
About TraceParts
TraceParts is an online engineering media company offering progressive business solutions through powerful web based products and services. TraceParts helps customers improve marketing efficiencies by increasing the value of their existing digital product data. The TracePartsOnline.net CAD portal is freely available to millions of CAD users worldwide. www.traceparts.com