Industry leading e-catalog provider leverages the communication efficiency of TORNADO's .VIZ 3D file format to enhance multi-format CAD part database

Montreal, Canada and St. Romain, France, October 6, 2003 – TORNADO Technologies, Inc., an innovator and leading developer of collaborative 3D visualization software for the AEC, process plant and manufacturing industries, and TraceParts, the industry's first fully integrated CAD part catalog solution are pleased to announce the availability of tracepartsonline.net with new 3D visualization capability. The addition of seamless 3D visualization into the TraceParts internet portal will significantly enhance the CAD user's experience with interactive 3D content, and accelerate decision-making in the online part selection process.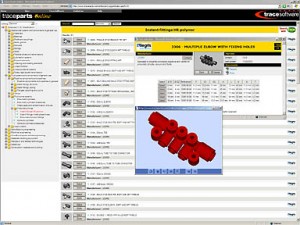 Mechanical CAD professionals from a wide range of industries can access an extensive online database of models and component information from international CAD standard libraries and global component manufacturers. With a single click, 3D visualization of the desired part is invoked through an ultra-streamlined and customized Web client interface based on TORNADO Technologies' WebVIZ Suite. The 3D model is immediately displayed in the highly compact and optimized .VIZ 3D file format, allowing the user to manipulate the model in real-time regardless of desktop hardware configuration.
"TraceParts is a pioneer and technology leader in the area of electronic parts catalog solutions, both in terms of CAD platform integration and infrastructure for online communication between CAD users and parts vendors," said Dominique Gatto, TORNADO Technologies' Founder and CEO. "It is the common focus on delivering productivity gain and business value through cutting-edge technology which formed the basis for our partnership, and the long-term potential for broader collaboration."
TORNADO Technologies' WebVIZ Suite offers several key advantages for implementing 3D visualization within e-commerce environments. First and foremost, the remarkable agility of the Web client interface, and high optimization of the proprietary 3D file format, ensures unfettered communication of 3D model content across extensive portal services. In addition, support for multiple native 3D CAD file formats used in manufacturing, architecture, engineering and process plant sectors, provides compatibility with the relevant CAD standard of vertical industry portals. These features are complemented by an easy to use server-based administration tool, called VIZManager, for batch conversion of the CAD models into TORNADO's .VIZ 3D file format, and electronically signing the .VIZ files for security purposes.
"Teaming up with TORNADO Technologies will provide our 50,000 tracepartsonline.net users with instant and seamless access to 3D visualization for all the 20 million parts available from our Internet CAD portal,"said Gabriel Guigue, Managing Director of TraceParts SA. "We believe this strong partnership is the perfect example of our commitment to serve our customers with the best solutions to increase their productivity in their CAD process."
www.tracepartsonline.net is a leading Internet portal which brings an easy access to millions of standard parts from major manufacturers and international standards, including ANSI, ASCO/JOUCOMATIC, ASME, BOSCH, BOUTET, CHAMBRELAN, CSR, DIN, EFFBE, ELCOM, FAIRCHILD FASTENERS, FESTO, FIBRO, FOGEX, FRANKE, GENUSTECH, HASCO, HOERBIGER ORIGA, HP SYSTEMS, HUCO, IGUS, INA, ISO, LEGRIS, LINATEC, NADELLA, NAAMS, NAS, NF, NORELEM, NSK, OLAER, PARKER, PAULSTRA, PNEUMAX, RABOURDIN, ROCKWELL, SEDIS, SIAM RINGSPANN, SKF, SMC, SNR, STAR, SUMER, THK, UNI, UNIMEC, …. These essential components for mechanical design in the tooling, machinery, aerospace and automotive industries are availble under all the main CAD formats, in 6 different languages.
About TORNADO Technologies, Inc.
TORNADO Technologies Inc. develops and markets collaborative 3D visualization and communication software which enable enterprises in the Architecture, Engineering and Construction (AEC), Process Plant and Manufacturing industries to realize increased business advantage from their 3D model content. The company's desktop and Web-based product lines enable technical and business professionals alike to easily visualize and communicate even the most complex 3D model content for increased productivity and faster decision-making across the extended enterprise. The products fully support popular 3D CAD/CAM systems and file formats such as AutoCAD, CATIA, PDS (Intergraph) and SOLIDWORKS, along with MENSI point cloud data and various industry standard 3D file formats. TORNADO Technologies' worldwide operations are based in Montreal, Canada.
About TraceParts
TraceParts is the ideal link between parts manufacturers and design engineers. It offers a unique software solution for the distribution of CAD models and component information.
TraceParts CD is a very extensive parts library seamlessly integrated within all the main CAD software on the market : CATIA, SOLIDWORKS, Pro/ENGINEER, Solid Edge, Inventor, Mechanical Desktop, thinkdesign, TopSolid, any ACIS, IGES or STEP compatible software.
tracepartsonline.net is a powerful online internet portal that delivers CAD models coming from the same parts database as TraceParts CD (www.tracepartsoline.net).
TraceParts is a new and fantastic means of communication for all parts manufacturers, which brings major productivity benefits to drawing offices, whether they are specialised in the mechanical, electro-mechanical, tooling, machinery, aerospace and automotive industries. More information about TraceParts is available at www.traceparts.com
For more information :
TORNADO Technologies, Inc.:
Mike Keffer, Director, Marketing and Business Development
Tel : (514) 879-9692
E-mail : mkeffer@tornadoviz.com
TraceParts S.A.
Gabriel Guigue, Managing Director
Tel : +33 232 79 4438