Join one of the fastest growing 3D catalog communities and win an iPad™.
Saint Romain, France – November 30, 2010 – TraceParts, a leading global provider of 3D Marketing solutions, today launched the official user registration countdown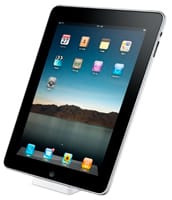 of its flagship online part library www.tracepartsonline.net. With 991,513 registered users from more than 200 countries as of today, TracePartsOnline.net will reach the impressive one million mark within just a couple of weeks. The lucky one millionth registered user will win an Apple iPad™.
With hundreds of supplier catalogs and more than 100 million CAD models in all major native and neutral formats including AutoCAD®, SOLIDWORKS®, CATIA, Autodesk Inventor and Google SketchUp, TracePartsOnline.net has quickly become one of the most popular global online resources for engineers and designers. TracePartsOnline.net brings considerable productivity savings to all the mechanical and electromechanical designers by allowing them to download purchased parts rather than redrawing them.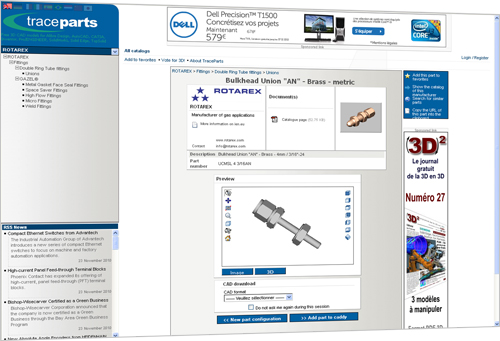 Component manufacturers are using the site as an innovative online 3D marketing tool to promote their products and generate highly qualified sales leads. TracePartsOnline.net features 3D catalogs from leading component suppliers such as Advantech, Asco Numatics, Atlanta, Blickle, Bosch Rexroth, Cepex, CGI, Clippard, Contrinex, Euchner, Facom, Ganter, Halder, IFM, Igus, INA/FAG, Item, Kabelschlepp, Legrand, Parker Legris, Mädler, Nadella, Norelem, Nozag, Phoenix Contact, Rohde, Rötelmann, RS Components, Schmalz, Schmersal, Schneider Electric, Sherex, Sick, SNR, Trelleborg, Vishay, Winkel, and many more.
"We are very excited about being so close to welcoming our one millionth registered user on TracePartsOnline.net," says Gabriel Guigue, TraceParts General Manager. "This great achievement demonstrates our continuous commitment to deliver innovative 3D content to the largest audience possible. We've already built one of the most impressive online communities of CAD users and part suppliers in the world, and it's just a beginning!"
About TraceParts
TraceParts is a leading digital engineering 3D content company, offering customers progressive business solutions through powerful web based products and services. TraceParts brings targeted and cost-effective market penetration to parts vendors, in all sectors of the industry. As part of the Trace Software Group founded in 1989, TraceParts develops and markets software solutions for CAD parts libraries, electronic catalogs and product configurators specially designed to meet the requirements of the mechanical industry. TraceParts helps customers improve marketing efficiencies by increasing the value of their existing digital product data. The tracepartsonline.net CAD portal is freely available to millions of CAD users worldwide, with more than 200 manufacturers' catalogs and 100 million CAD drawings and related technical data suitable for the design, purchasing, manufacturing or maintenance processes.
For more information, please visit www.traceparts.com