Enhanced online parts library addresses growing global demand for online design content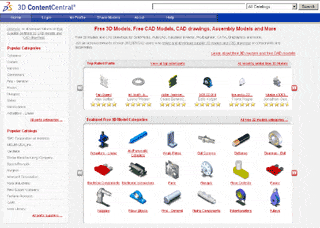 CONCORD, Mass., Jan., 31, 2007 – SolidWorks Corporation today announced a comprehensive redesign of its 3D ContentCentral® Web site that presents online catalogs in a common format, enables engineers to quickly find appropriate 3D CAD models, and accelerates the product design process. A standardized view of millions of product models reduces time spent searching through supplier catalogs and frees engineers to spend more time designing better products.

This new version of 3D ContentCentral is free to registered users and is available in English, German, French, Spanish, Italian, simplified Chinese and traditional Chinese. Users may now access supplier product information, 3D CAD models and 2D drawings in a consistent format and quickly complete cross-catalog searches to find the desired component. 3D ContentCentral's new interface and multi-language support address a growing global demand for online content. 3D ContentCentral currently hosts more than 175 supplier catalogs and showcases "supplier certified" models which represent millions of part numbers. In addition, 3D ContentCentral offers quick access to more than 5,300 models contributed by the 3D ContentCentral user community which are featured in 3D ContentCentral's User Library.
Catalogs available on 3D ContentCentral allow engineers to streamline product development by finding and configuring a supplier part or assembly they need in seconds, not weeks. They can then download the 3D model or 2D drawing directly into their design, checking form and fit prior to purchase. 3D catalogs save product designers valuable design time which they would otherwise spend looking through paper catalogs or on the phone with the supplier's sales support staff to find and configure a supplier component.
The 3D-enabled catalogs available on 3D ContentCentral showcase everything from sensors to large motors. Components from global suppliers such as SMC Corp. of America, Misumi USA, Inc., CarrLane, Omron, and Bimba Manufacturing Co. are among those featured on 3D ContentCentral.
SOLIDWORKS has invited other content providers under the "Content-Partner"-Program to publish their catalogs in 3D ContentCentral. More than 75 new catalogs from TraceParts, former Web2CAD, have been added so far. Timo Brüggemann, 3D PartStream.NET European Manager, told that over 100 more catalogs from TraceParts are being added until summer 2007.

"Getting up-to-date design information on the Internet is a key aspect of how our users design products," said Lynne Wilson, SOLIDWORKS vice president and general manager, content solutions. "The new 3D ContentCentral Web site, with its enhanced navigation and cross catalog search, was designed with a single goal of making it an everyday resource for product designers to download 3D models in all CAD formats. We strongly believe that the new Web site will continue to accelerate the adoption of 3D ContentCentral by the CAD community as the premier online resource for CAD component models on the Internet."
All 3D components can be conveniently accessed for free via SOLIDWORKS' 3D ContentCentral service at www.3dcontentcentral.com. Over the past year, more than 228,000 users have registered on 3D ContentCentral to find, configure, and download 3D part models or 2D designs for their product development. 3D ContentCentral allows users to browse supplier catalogs and product categories such as tooling, power transmission, or pneumatics via the Internet, or directly from within SOLIDWORKS software.
"Having access to a multitude of component manufacturers from a single Web site saves time and effort in locating the part models I need," said Ricky Jordan, senior mechanical design engineer at Dynetics, Inc. "Instead of going from one supplier Web site to another, I can quickly and easily search 3D ContentCentral and find the models I need in a single location."
About SolidWorks Corporation
SolidWorks Corporation, a Dassault Systèmes S.A. (Nasdaq: DASTY, Euronext Paris: #13065, DSY.PA) company, develops and markets software for design, analysis, and product data management. It is the leading supplier of 3D CAD technology, providing intuitive, high-performing software that helps product design teams develop great products. For the latest news, information, or an online demonstration, visit the company's Web site (www.solidworks.com) or call 1-800-693-9000 (outside of North America, call +1-978-371-5000).
3D ContentCentral is a registered trademark of SolidWorks Corporation. Other brand and product names are trademarks of their respective owners.
TraceParts and TraceParts logo are trademarks or registered trademarks of TraceParts S.A. All other trademarks used or mentioned herein belong to their respective owners