Nashua, New Hampshire –July 31, 2013 – A & A Manufacturing is a global manufacturer of protective cover products, cable and hose carriers; roll up doors, machinery door openers, slip clutches and innovative engineered assemblies for value-added solutions. With multiple product lines and a commitment to maintaining high quality, A & A chose a phased approach to implementing worldwide online presence with TraceParts.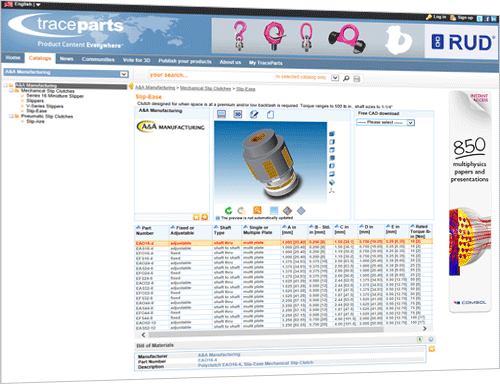 "We wanted to provide our product line catalogs in multiple languages while maintaining our commitment to 100% accuracy," said Luc Luc Piessens – Executive Director of Corporate Development. "In addition we wanted the new catalogs integrated into our corporate website. Working with TraceParts we were able to accommodate all of our worldwide customer CAD format preferences," said Piessens.

"We were able to work directly with the A & A web team to integrate the 3D catalogs into their corporate site as well as our worldwide network of over 7.5 million users," said Bob Noftle, President TraceParts. "This phased approach gives companies like A & A the ability to manage the process and keep tabs on quality"."
About A & A Manufacturing Co. Inc.
A & A Manufacturing Co. Inc. of New Berlin, Wisconsin, is a single source provider for innovative products for protective cover, cable and hose carrier, roll up door, and slip clutch applications. The A&A Manufacturing Group has access to manufacturing centers throughout North America and the world. A & A is committed to manufacturing quality products and finding innovative, but practical solutions whether you need a simple off-the-shelf component, an engineered assembly, or a complete, turnkey dynamic solution.
About TraceParts
TraceParts is an online engineering media company offering progressive business solutions through powerful web based products and services. TraceParts helps customers improve marketing efficiencies by increasing the value of their existing digital product data. The TracePartsOnline.net CAD portal is freely available to millions of CAD users worldwide. For more information about TraceParts, please visit www.traceparts.com