The famous industrial components manufacturer leverages TraceParts' expertise and high-quality contacts

Norelem is celebrating its 70th birthday in 2013. The company started out by specializing in equipment manufacturing before rapidly focusing on the design and production of standard components for all branches of industry, including precision mechanics (watch-making), automobiles, transport, aviation, defense systems and special machinery.
Norelem's reputation among manufacturers is primarily due to its extensive range of standard components (close to 30,000 articles) and its high-quality products manufactured at its site in Fontaine-les-Grès in France's Aube region. The company continues to pump considerable investments into its production site in a bid to guarantee a swift response to its customers' needs.
But Norelem's reputation can also be credited to its Big Green Book (in reference to the company's colors), a hardcopy catalog tipping the scales at over nine pounds and coveted by thousands of engineering firms. With updated versions released every two years, the catalog features a print run in excess of 10,000 copies and needs to be shipped due to its weight!
TraceParts – from the 3D library to promotion of the hardcopy catalog
In the 1990s, TraceParts was contracted to create and upload 3D catalogs of Norelem's components. Models of Norelem's components are now available at the www.norelem.com website and the TracePartsOnline.net portal in all the main CAD formats on the market.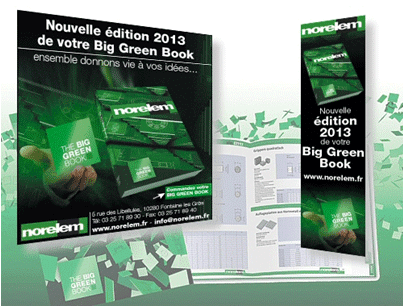 The email campaign and the promotional banner for the Big Green Book entrusted to TraceParts by Norelem
The Big Green Book still represents a highly important communication and sales driver for Norelem. Céline Manoukian is in charge of business development at Norelem: "Downloads from our CAD catalogs have been steadily rising and account for a major part of our sales. TraceParts' marketing and listing efforts, its network of partners and traffic at its website have clearly given our products a higher profile on the Internet. But in terms of actual presence, our hardcopy catalog is irreplaceable. It is a guide that countless designers and buyers are used to leafing through in search of the right component, which they often download afterwards."
To promote its Big Green Book, Norelem has been going through conventional communication channels, such as trade fairs, print media, banners on dedicated portals for design and engineering firms, and its blog atwww.blog-norelem.fr.
Since March 2013, the company has been using TraceParts' e-marketing services, especially banners on theTracePartsOnline.net website and an initial email campaign targeting French users of the download portal. Norelem's aim is to present the 2013 issue of the Big Green Book.
Céline Manoukian is delighted with this new experience: "We have seen a high return rate and noticed that CAD users were especially receptive to our campaign. Combining both communication strategies – banners and an email campaign – has naturally brought in new prospects, but also reactivated existing customers that had been less active for some time. Demand has been extremely high for the 2013 issue of our Big Green Book!"
TraceParts' e-marketing services help put companies clearly on the radar (manufacturers, vendors, etc.) by sending their message to a community of over 700,000 qualified CAD users (85,000 in France), including buying managers, methods and maintenance departments, engineers, technicians and engineering firms, industrial manufacturers and executive officers. TraceParts also publishes banners on its portal and in its newsletter.
Céline Manoukian concludes: "In TraceParts, we have found a long-term partner for our CAD libraries. This successful foray into e-marketing territory will lay the foundations for a new complementary relationship that will also be built upon trust and the long term. We will undoubtedly repeat this form of communication."