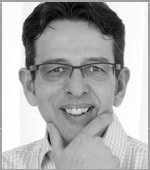 What's your name? What's your position within the company?
My name is Alfred Schallert, I am Head of Project Management at TraceParts GmbH in Amberg, Germany.
How long have you been working for TraceParts for?
I started at TraceParts in July 2005 as a Project Manager. In this position I was responsible for several German Parts Manufacturers who were publishing their product data on traceparts.com. I also did some catalog modeling in smaller projects to get a better feeling for the requirements of data to be published on traceparts.com. Since January 2012 I am Head of Project Management in Amberg, leading a group of 4 people and coordinating with our external partner to model the part catalogs.
What is your job about?
As a project manager, my main task is to be the interface between our customers and our development / data creation groups. It is important to understand the requirements of the customers and "translate" them into our own language, so that development and data creation teams can create world class data and achieve 100% customer satisfaction. The majority of our customers come from the mechanical engineering field. Being a Mechanical Engineer is very helpful to understand product specific requirements.As the Head of project management, I am sort of responsible for all projects that we run in Amberg. This involves the planning with our external data creation offices as well as the internal coordination of our resources.
What do you want to achieve for TraceParts in the next years?
It is always my goal to have "happy customers". Therefore I am constantly working on the way we do our project management. I am trying to improve our processes to run projects efficiently and also provide a service to the customer that makes him come back to TraceParts and do more with us. We grow with our customers' requirements. This is what makes that job interesting and this is what will keep me and my group busy over the next years and hopefully beyond.
What do you do after work, during your free time?
I am a big movie fan and I am interested in Formula 1, well basically everything that has a big powerful engine. I spend a big part of my free time with 3D modeling of modern Military Equipment. I use hobby kits as source, measure the parts and model them in a CAD System. Over the years – I've been doing this since the mid 1990s – this has developed from the pure interest of learning a new CAD system into a quite intensive hobby. The 3D Models are also published on some 3D and CAD communities.
How can the readers contact you and why is this important to you?
Contact me. I'll be happy to give you more information about TraceParts and our job.