Effective Email Marketing for Engineers and Design Professionals
---
You may think email marketing for engineers and design professionals is old fashioned or dead if you believe all the buzz about social media.
That is simply not true if you are a manufacturer or a distributor of parts and plan to use email marketing to engage with industrial professionals. As Mark Twain was famously quoted, "The reports of my death are greatly exaggerated."
Of course, you don't have to take my word for it. May be this will convince you – "95% of engineers will consider an email in their inbox." That is one of the key findings from the research study, How Engineers Find Information, published by engineering.com.
Want more proof?
"Forty-four percent of technical professionals subscribe to three or more free e-newsletters, and 35 percent subscribe to three or more free digital trade magazines.

On average, engineers subscribe to two free e-newsletters." (Source: 2017 Digital Media Use in the Industrial Sector published by IEEE GlobalSpec).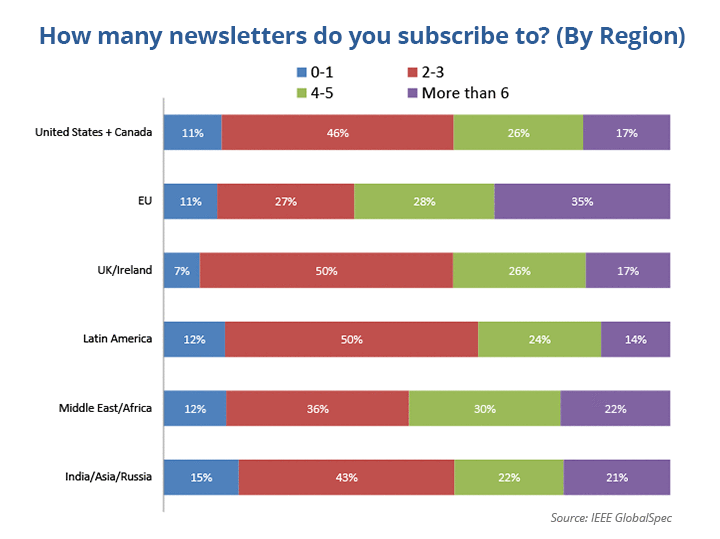 Pitfalls of email marketing for engineers
While email marketing is effective in reaching engineers, it has some challenges.
Before you start an email marketing campaign, be aware of some of the major pitfalls. You don't make the same mistakes that can quickly derail your efforts.
Batch and blast email campaigns are not effective
Difficulties in getting past sophisticated spam filters and delivering to Inboxes
Compliance with the requirements of EU GDPR (General Data Protection Regulation)
Declining Open and Click-through rates
Email marketing is effective through most of the industrial buyer's journey
Engineers and industrial buyers go through various stages in their buying journey.
Typically, the industrial buy cycle can be split into four distinct stages. They are:
Needs Awareness
Research
Consideration & Comparison
Procurement
It is important to maintain top-of-mind awareness (TOMA) throughout their buying journey because industrial sales cycles can be long.
Email marketing has proven to be an effective means of communicating with specifiers (Design Engineers) and functional buyers (Management and Purchasing) as they progress through the various stages, making interim decisions before making the final buy decision.
They say a picture is worth a thousand words. Here's an image showing email marketing's role from our infographic on Customer Journey.

Choosing the right email marketing list for targeting engineers
As I've mentioned before, simply blasting out emails to a poorly-selected list will most likely disappoint you.
Selecting the right buyer personas, targeting the correct geographic markets, responding to their challenges and complying with GDPR. They are all critical factors to the success of your email marketing campaigns.
Where do you start if your in-house list is small and/or you want to expand into new markets?
TraceParts offers you a tremendous advantage with our database. You can select from more than 1.5 Million relevant and consenting contacts registered on TraceParts CAD-content platform.
These are engineers and design professionals who have explicitly opted-in to receive email information sent by TraceParts.
You will not only be fully compliant with GDPR, you'll be reaching a captive audience who wants to hear from you.
Visit TraceParts' E-mail Marketing page to learn more about all the benefits we have to offer.
We'll help you choose the right list and provide you a free quote.

Focus on providing relevant content in email marketing
While engineers and industrial professionals are hungry for information, they are suspicious and skeptical about marketing fluff.
They want to be informed, educated and kept abreast of the latest developments in the industry. They don't want to be sold to.
Follow the golden 80/20 rule, 80% helping, 20% selling if you don't want to turn off this audience.
Earn their trust with content that is technically accurate, current and addresses their challenges at work. Make it more about them, less about you.
Email marketing when done right can be one of the best ways of building stronger relationships in today's digital world.
Follow the Six best practices when creating an email marketing campaign in the industrial sector.
My team will be publishing more posts in the future where we'll dive deeper into planning, creating and measuring effective email marketing campaigns for reaching engineers and design professionals. Stay tuned!

Need help with your email marketing strategy for generating better quality leads?
Categories