Schneider Electric, the worldwide specialist in energy management, deploys its activities in five markets:
Energy & infrastructure
Industry
Data centers & networks
Buildings
Residential
It has 123,000 employees around the world in 130 countries, and all its products are commercialized under the Schneider Electric brand (previously Telemecanique and Merlin Gerin amongst others).
Buildings, industry, infrastructures… Schneider Electric is present wherever electricity is required and must be controlled. Products are commercialized via a network of dealers, using a direct sales method aimed at the major industrial corporations (automotive sector, machine manufacturers, etc.).

William Jeanson heads the Data Project for the Technical Communication department of Industrial Machine & Process based in L'Isle-d'Espagnac in the Charente region, France. In particular he is in charge of improving the range's technical presentation.
In the 1980s he worked in design for Telemecanique, and was then integrated into the Schneider Electric group. Customers already frequently wanted "electronic drawings", and the company occasionally provided them.
With the boom in 3D design, these requests became too complex to deal with, mainly because of the huge number of formats and constant software development.
When William Jeanson became in charge of technical communication for the range, he focused on meeting this need to improve customer service, and looked into several solutions available on the market. In 2003 TraceParts was the obvious choice:
Our decision was based above all on technical criteria. TraceParts was the only supplier covering all the main market standards and formats. In addition, the quality of its catalogs and resulting success with CAD/CAM customers made it a vital partner.
The first library was for Telemecanique Sensors to meet the needs of machine manufacturers. This was followed by signalling, Man-Machine dialog elements and all the components making up the control cabinet (contactors, relays, speed variators, etc.).
Today Schneider Electric supplies the 2D drawings to TraceParts, as well as a "classification pyramid" of components. External partners then simplify the drawings, so as to conserve intellectual property of the components but at the same time reduce downloading volume as far as possible. Only the outer casing is modeled, but the assembly and fixing points are defined precisely. TraceParts then generates the 3D components.
François Janvier is the "Image" manager at Technical Communication, and is responsible for regular communications with TraceParts:
Our components are designed in-house on a parametric 3D CAD/CAM system (Pro/ENGINEER Wildfire). We are moving towards direct supply of simplified 3D models to TraceParts, to simplify the flow of information and further shorten the lead times for online availability, which are already very fast.
In-house enthusiasm for this competitive advantage
The reason why a more efficient methodology is necessary within the group is that the project is going to be fast-tracked.
Based on the success and positive repercussions of integrating Telemecanique components into the TraceParts library, Schneider Electric has recently decided to extend the project to include all its products, including those commercialized for the Energy & Infrastructure sector (formerly Merlin Gerin brand).
Instead of a little more than 11,000 references today, nearly 70,000 articles will eventually be available.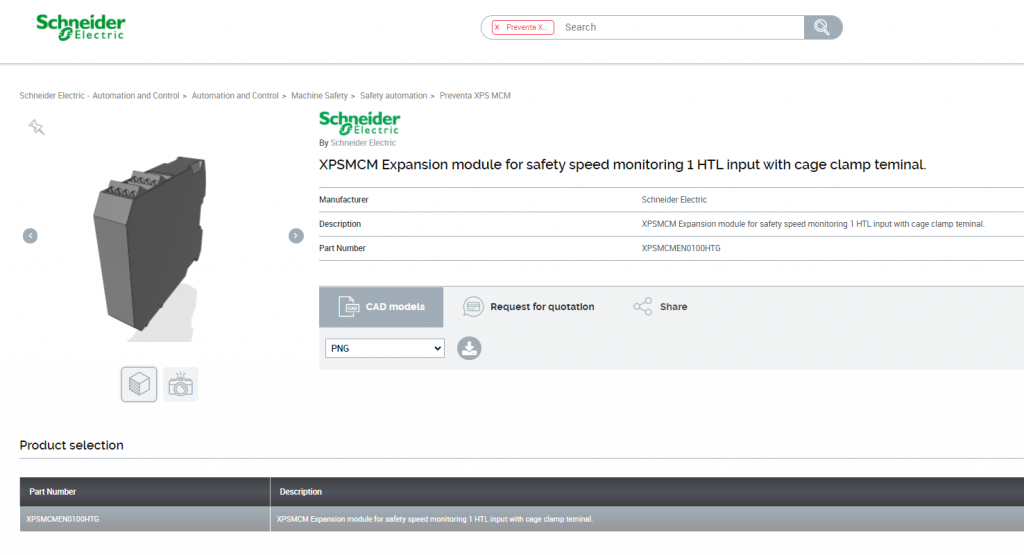 In the TraceParts.com Parts library you can download CAD files of Schneider Electric
So François Janvier has a double challenge to meet: integrating existing catalogs and new products.
He has to deal with friendly pressure from the sales teams, who realize that having their parts in the TraceParts library is a competitive advantage, and insist that to make their customers an offer the 3D models for the relevant parts have got to be retrievable via the TraceParts library!
Integration of the Schneider Electric catalog is shaping up well.
Integration of the Schneider Electric catalog is shaping up well. Technical relations with TraceParts are excellent. says François Janvier
For William Jeanson, the Schneider Electric group's adhesion to the TraceParts component library project is also due to the "trusting and transparent commercial relations with interlocutors who prove their responsiveness every day".
A commercial success
The first products were put online in 2003, enabling design departments from Schneider Electric's customers to make use of CAD/CAM component models in whatever format they chose.
In 2008, more than 30,000 models were downloaded, and the statistics show that the downloading customers perfectly reflect the markets targeted by the modeled products. William Jeanson acknowledges this growth is essentially due to TraceParts' communication actions and the number of users throughout the world:
We didn't communicate particularly about our presence, except with our key accounts. Our first objective was to provide them with a service, and today thanks to feedback from our sales teams we know that service is highly appreciated.
For further information:
Schneider Electric website: www.schneider-electric.com
Download CAD data of Schneider Electric: www.TraceParts.com
Contact us: info@traceparts.com