The international expert in push-pull connectors chooses TraceParts for its 3D model library and e-marketing services.

LEMO is a global leader in the design and manufacture of push-pull connectors for electrical, fluid and fiber optic transmissions. Its products respond to the needs of customers in a variety of markets, including military, medical, industrial control, measurement, audio-video and telecommunications. Founded in 1946, LEMO employs 1,300 people. Its headquarters and three plants are based near Lausanne, Switzerland.
With 17 sales offices around the world, LEMO generates most of its revenue from direct sales, while 95% of its customers are located outside Switzerland.
3D models required by customers
In response to growing demand for 3D models from users of its products, LEMO enlisted the support of TraceParts in 2010. Serge Buechli, Product Manager at LEMO, explains:
"User enquiries were handled by our local subsidiaries, which then had to get the data from our design office, a process that wasted time and generated no added value, especially since the format that we supplied was rarely the one that had been asked for!"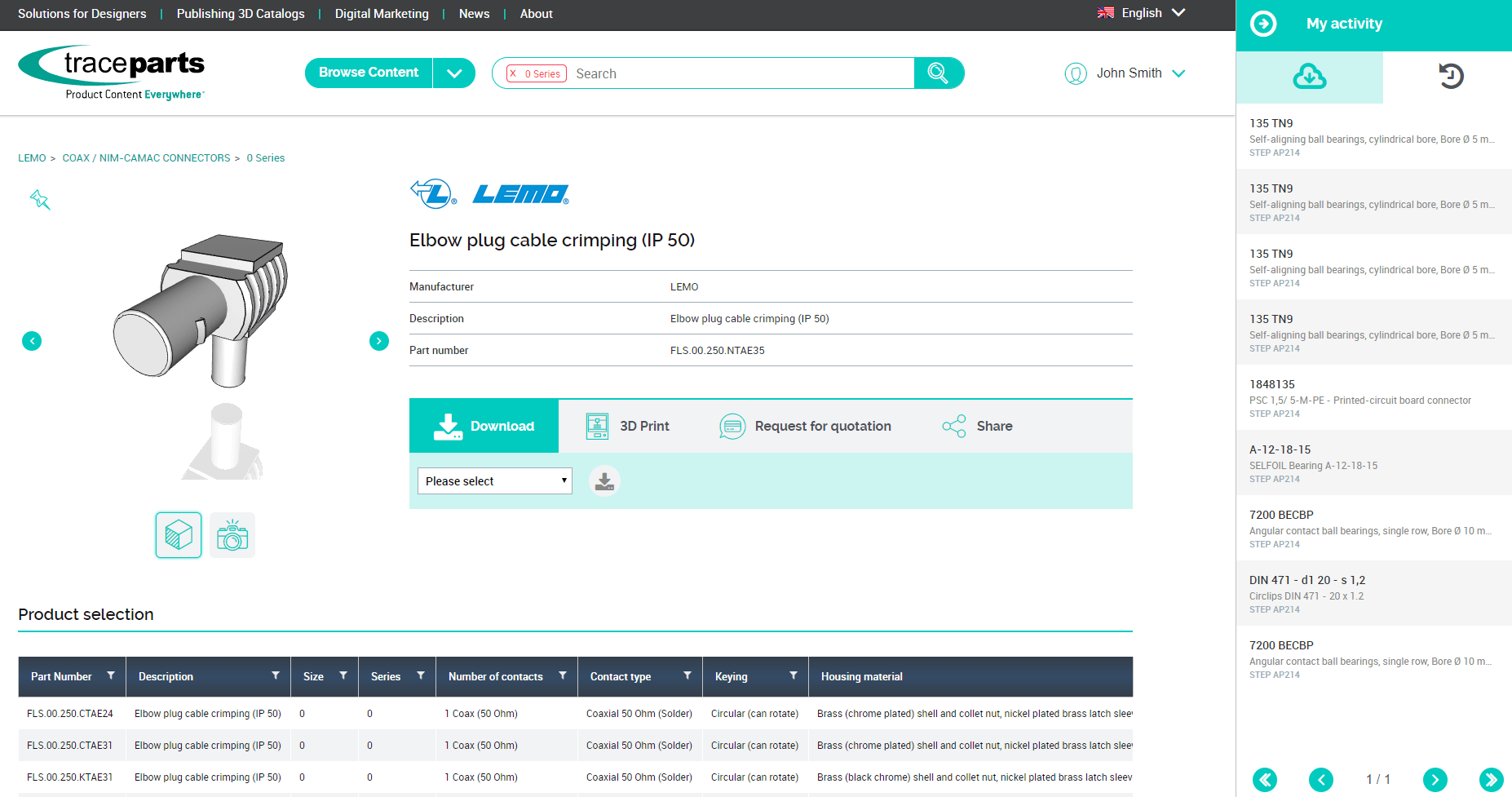 More than 14,000 connectors references of Lemo are available on the TraceParts CAD portal
In six months, all product families selected by LEMO – representing 14,000 of the company's 50,000 items – were uploaded and made available on the TraceParts.com portal in all the CAD formats on the market.
Work on the models has also had a beneficial effect on the www.lemo.com site. The manufacturer's portal features a sophisticated configurator for looking up connectors according to specific functional and dimensional criteria. The TraceParts teams incorporated a 3D viewer and downloader into the configurator.
Connectors on the radar of more designers and buyers
"We offer our customers a high value-added service by giving them access to 3D models on our site. New families will soon be added," Serge Buechli continues. "But results have gone far beyond our initial objective. We have increased our global visibility, and our products are available as early as the equipment design stage. For every 10 models downloaded, six come from our website and four from the TraceParts portal or our partners' sites. Detailed information from TraceParts is analyzed every week and distributed throughout our subsidiaries for their sales initiatives. We have a greater insight into buyers and designers."
Major retailers, such as RS Components, have also gone for the TraceParts technology, thereby offering additional access to LEMO's products.
Push marketing
In a bid to promote its products to equipment designers, LEMO regularly uses TraceParts e-marketing services through its newsletter. "As such, we benefit from the foothold that TraceParts had gained in design firms around the world, allowing us to address specific regions and markets," concludes Serge Buechli.
For further information:
Lemo: www.lemo.com
Lemo CAD data on TraceParts: www.traceparts.com
Contact us: info@traceparts.com