c3controls has published the CAD catalog for its industrial control products on TraceParts.com
---
01-06-2021
Krunoslav Rašić
CINCINNATI, OHIO and BEAVER, PENNSYLVANIA USA (June 01, 2021) – c3controls, a global manufacturer of industrial control products for OEM's, machine builders, panel builders, and system integrators, has partnered with Thomas and TraceParts to publish its 3D product catalog.
c3controls is an electrical controls business which produces durable, well-designed electrical control products that perform reliably even in the most punishing environments. Their products meet and exceed global standards for quality and safety.
c3controls is pleased to introduce our industrial control products to the TraceParts platform. We believe this is a great opportunity because it will help us reach a wider audience while also adding a valuable service to our existing customers.

said Ted Wodoslawsky, Director of Commercial Marketing at c3controls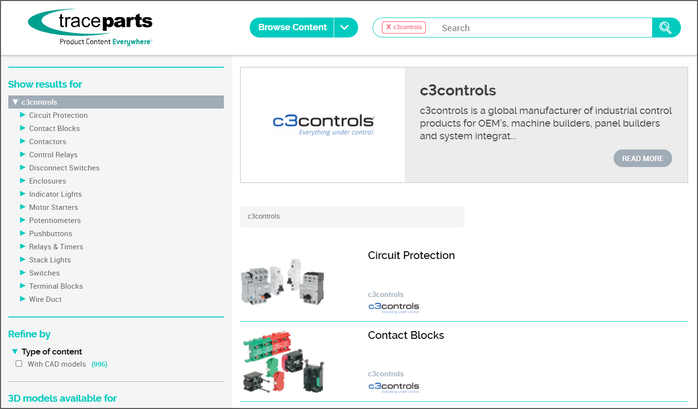 Once configured, their product CAD models can be immediately downloaded in more than sixty (60) engineering design (CAD) formats, enabling designers to streamline and validate their product selections by placing them digitally into their designs.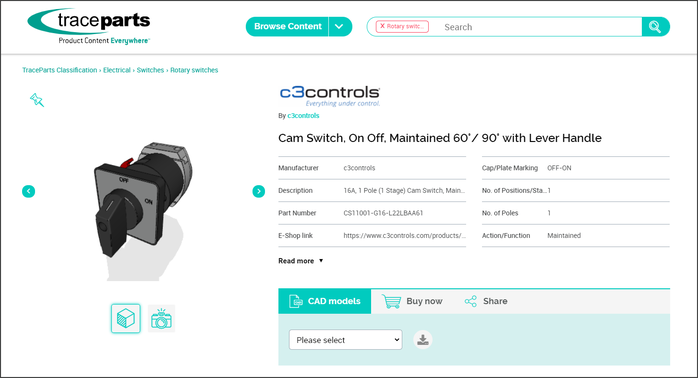 TraceParts is thrilled to work with c3controls to create a seamless digital experience for their customers. The c3controls product catalog, now available at TraceParts.com, allows millions of designers and engineers to access high quality 3D product data from c3controls.

said Rob Zesch, President of TraceParts America
About c3controls
c3controls is a global manufacturer of industrial control products for OEM's, machine builders, panel builders and system integrators. Our products are used by major companies, serving all industries. They include starters, contactors, circuit breakers, indicator and tower lights, lamps, switches, enclosures, relays, timers, pushbuttons, control stations, terminal blocks, cable duct and more.
All c3controls products come with a limited lifetime warranty. Try any of our quality products with our 90-day risk-free return policy. Our business model guarantees same-day shipping on standard products, and free shipping on orders over $49!
For more info, visit www.c3controls.com.
About Thomas
Thomas is the leading advertising platform and digital marketing service provider for manufacturing businesses looking to reach highly-qualified procurement professionals and engineers and grow their business. Our product data solutions suite includes digital product catalog services, CAD & BIM file creation & distribution, complex product configuration tools, and data syndication capabilities. Everything we do is designed to help our partners attract, convert, and retain customers in the industrial space.
For more info, visit www.thomasnet.com.
About TraceParts
TraceParts is one of the world's leading CAD-content platforms for Engineering, Industrial Equipment and Machine Design, totaling 4.3 million registered members from 1.2 million companies actively sourcing product information and technical data from over 195 different countries.
As part of the Trace Group founded in 1990, TraceParts brings highly targeted marketing exposure to more than 800 customers of all sizes and from all industries, via powerful cloud-based API and SaaS applications such as CAD part libraries, product catalogs and configurators.
TraceParts' comprehensive Digital Marketing Services help part manufacturers and distributors, 3D printing & rapid-prototyping suppliers, CAD/CAM/CAE/ECAD software and computer hardware vendors promote their products and services and generate highly qualified sales leads.
Available free-of-charge to millions of Engineers & Designers worldwide, the TraceParts CAD-content platform provides access to over 1,222 supplier-certified product catalogs and billions of 2D drawings & 3D CAD models and product datasheets that perfectly match the digitalization needs of Design, Purchasing, Manufacturing and Maintenance processes & operations, in virtually any industrial sector.
Categories